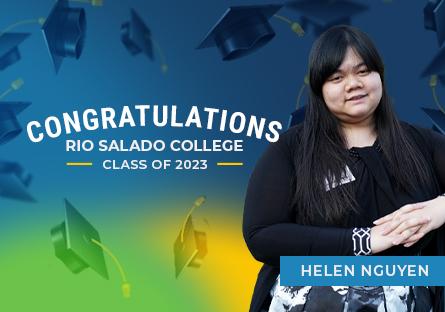 Helen Nguyen, a student at Mountain Pointe High School, has a clear vision for her future. As she completed her high school journey in May, she also completed the high school ACE program (Achieving a College Education) at Rio Salado College, along with her associate degree. 
With plans to attend the University of Arizona in the fall and become a pharmacist, Helen's story is one of determination, academic excellence, and a drive to make a positive impact on her community.
Watching family members and friends struggle with medical issues inspired Nguyen's plans to attend medical school. She began her Rio Salado journey during her freshman year in the Tempe Union High School District. That's the same year she met a new friend who struggles daily with lung disease.
"She had to do appointments every week and it was very hectic on her schedule so I would try to help her out whenever," Nguyen said.
Her determination is also fueled by experiences closer to home: Helen's brother suffered from asthma, and her grandfather battled cancer. These encounters sparked her interest in finding ways to help those suffering with illness and improve their lives. 
With so many of her college courses completed during high school, Nguyen has an early start to reach her goals while also saving money on her overall college journey.
When asked about her advice for future students considering the dual college credits or the ACE program, Nguyen emphasized the importance of exploring all options, both online and in-person. 
While online classes provided flexibility, Nguyen recommends attending in-person classes (on the high school campus) for subjects like chemistry, especially for those aspiring to enter the medical field. She balanced her schedule by building specific time for college coursework while also taking part in dozens of extracurricular activities.
Nguyen's belief in the dual enrollment system led her to visit the Arizona Capitol this spring in support of additional funding for the program. She and her peers shared their experiences with Gov. Katie Hobbs' office. The efforts were successful. The recently approved state budget includes $15.5 million for dual enrollment programs.
Looking forward to college life at UA, Nguyen anticipates the opportunity to live in the dorms and experience greater independence. As she prepares to budget her own money and take charge of her life, she is excited to start a new chapter.