Thursday, September 7, 2023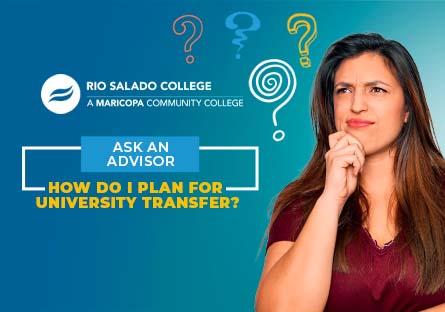 What is your career goal? Do you know if this will require a certificate, or an associate degree, or an associate degree that leads to university transfer? If your goal requires university transfer, Rio Salado College offers resources to help you have a smooth transition to your future university. When it comes to transferring programs and courses it shouldn't be guesswork. Rio Salado and the Maricopa Community College District have transfer agreements with the Arizona public universities: Arizona State University, Northern Arizona University, and the University of Arizona. There are also transfer agreements with many other universities in and outside of Arizona.
Preparing to transfer from a community college to a university is a significant step in your academic journey. To ensure a smooth transition, consider the following steps:
Early Planning
Start planning your transfer early, ideally when you begin your studies at Rio Salado College. This will help you make the most of your time and coursework. Your academic advisor specializes in your program of study and your transfer goals. Your advisor will help you create an academic plan that will map out the courses you will need to complete your associate degree at Rio and then apply to a university program. Working with your advisor can ensure that the courses you take for your associate degree are transferable to your desired university. You can find your advisor's contact information on your RioLearn portal. You can call your advisor, send them an email, or set up a virtual or phone appointment.
Take an FYE Course
If you are new to Rio Salado College and Maricopa Community Colleges and pursuing a degree, you will be required to take a first-year experience course. Choose from FYE101 — Introduction to College, Career and Personal Success (1 credit) or FYE103 — Exploration of College, Career and Personal Success (3 credits). These courses are designed to help succeed in your college courses and research and confirm your career and educational goals.
Research Universities
Identify potential universities you want to transfer to. Visit Rio's online Transfer Center to view a list of university transfer partners. Consider factors like the online or in-person availability, academic programs, cost, and admission requirements. Rio's Degree and Certificate page shows requirements for your Rio degree and also lays out requirements for pathways to the Arizona public university degrees. Your advisor can assist you in selecting a university and courses to meet your transfer goals.
Determine Admission Deadlines
Submit your transfer application according to the university's deadlines. Research what documents will be required such as official transcripts, letters of recommendation, and personal statements.
Maintain a Good GPA
Universities often have minimum GPA requirements for transfer students. Aim to maintain a good GPA throughout your community college studies.
Financial Planning
Investigate financial aid options, including scholarships, grants, and loans. Understand the cost of attending the university and plan accordingly.
Check in with your Academic Advisor or your University Representative
Remember that the transfer process can vary depending on the university and your intended major. Be proactive, stay organized, and seek help from academic advisors and university admissions offices when needed. With careful planning and dedication, you can successfully transfer from Rio Salado College to a university and continue your education to meet your goals.
David Hall is the Director for the Academic Advisement Department at Rio Salado College. He can be reached at david.hall@riosalado.edu.