Thursday, November 16, 2023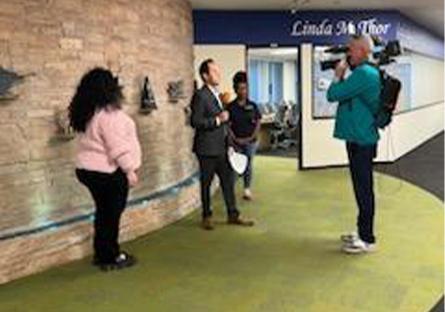 In response to the growing demand for skilled healthcare professionals, Rio Salado College and the Maricopa Community Colleges introduced scholarships funded by the Arizona Health Care Cost Containment System (AHCCCS) earlier this fall. The program, which aims to shape a future generation of addictions professionals, was featured recently by AZ Family. The interview can be seen online at the 6:38 mark.
During the segment, Dr. Trish Hernandez, Rio Salado faculty chair for addictions and behavioral health, expressed her excitement about the program.
"We're super excited to be offering this full-ride scholarship to students," Hernandez said. She told AZ Family's Colton Shone that most students would be accepted.
Beka Namachanja , a scholarship recipient nearing the end of the program, shared her personal journey. 
With prior experience in the healthcare and hospitality industry, Namachanja saw an opening to start anew during the pandemic.
"For me, when Covid hit everything came to a halt," Namachanja said. "It was just an opportunity I was able to take to pivot my career."
She came to the addictions and behavioral health field like many do, she said - seeing those around her impacted by it.
"That's the case for a lot of individuals around the state of Arizona where mental health and behavioral health isn't just a buzzword," Namachanja said. "We're seeing the real-life effect of what that challenge looks like. We're seeing it in our families, as well as out in the community."
The Bureau of Labor Statistics predicts an 18 percent growth in the substance abuse, behavioral disorder and mental health counseling field in the next 10 years, with 42,000 openings annually to fill roles of those leaving or retiring. 
The AHCCCS Scholarships, funded by the American Rescue Plan Act, present an opportunity for individuals to make a big impact on people's lives. Rio Salado offers a number of certificates in the field, as well as an associate degree. The program is "stackable," so students can earn their certificates along the path toward the associate degree.
Rio Salado's Addictions and Substance Use Disorders program is nationally accredited by the National Addiction Studies Accreditation Commission (NASAC) and is an approved college program by the National Association of Alcohol & Drug Abuse Counselors (NAADAC).
Want to learn more? Take the next step!
The scholarship has other requirements that you can read about online.
Students must submit their application by 11:59 p.m., Thursday, Nov. 30, 2023, (Arizona time) to be eligible for a Fall 2023 semester scholarship. The scholarship will remain open until April 18, 2024, for the Spring 2024 semester. Students must reapply each term for the scholarship funding.