Monday, September 11, 2023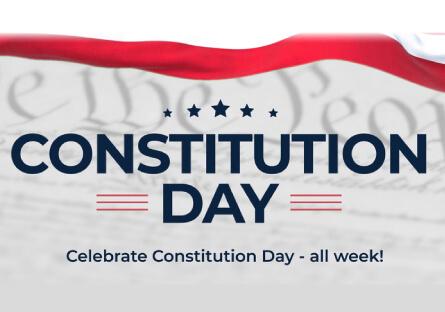 On September 17, 1787, the Founding Fathers signed the U.S. Constitution. For the past 236 years, the Constitution has served as the supreme law of the United States. The Constitution, along with the Bill of Rights and other amendments, define our government and guarantee our rights. Constitution Day commemorates the signing of the U.S. Constitution on that historic date when the delegates of the Constitutional Convention met for the last time and ratified the foundational document of our country. 
September 17 is also the date we celebrate Citizenship Day, the holiday that Congress created in 1940. Originally referred to as "I Am an American Day," Citizenship Day (as it was renamed by President Truman in 1952) is a day to encourage people to reflect on the rights and responsibilities of citizenship and what it means to be a citizen of the United States.
Constitution and Citizenship Day is observed annually on September 17 to commemorate both the signing of the Constitution and to "recognize all who, by coming of age or by naturalization, have become U.S. citizens." Rio Salado College and the Maricopa Community Colleges sponsor activities each year during the week of Constitution Day. You can find the activities sponsored by Maricopa and supported by Rio Salado at this site. This page lists topics open to students and staff that promote the ideas of the U.S. Constitution and provide an opportunity to reflect on related ideas—no matter what your political belief. If you are free, please join us for these events!
Celebrate Constitution & Citizenship Day all week by attending a week long series of virtual events focused on voting, civic engagement, and the most influential document in American history, our Constitution. 
Learn More About Constitution Day
The Rio Salado Library staff has put together an informative Constitution & Citizenship Day 2023 Guide that includes a featured documentary, a list of 32 books that shaped America, information on voting and the Bill of Rights, and even a U.S. Citizenship practice test. Do you think you know your country well enough to ace this civics test? Give this link a click and find out.
Constitution Day Events
Wednesday, September 13, 2023 | 11 a.m. - Noon
A Plethora of Propositions
Ballot propositions allow for a direct vote of the people on a variety of critical issues. Arizona often has one of the longest ballots in the nation due to the number of propositions voters are asked to consider. Join award winning pollster and political strategist, Paul Bentz, for an overview of propositions and what you may see on an upcoming ballot. 
Thursday, September 14, 2023 | 11 a.m. - Noon
Wanted: More Than Your Vote
Your vote is definitely your voice and Maricopa Community Colleges encourages all students, faculty, staff, and community to exercise their right to vote. Voting, however, is just one of many ways to be engaged in your community. Hear from alumni, faculty, and staff as they share the many ways we can all make a positive difference in our community through civic engagement.
Friday, September 15, 2023 | 11 a.m. - Noon
Constitution Day
Maricopa County is the second largest voting jurisdiction in the country and has received national recognition for their outstanding work. Join Maricopa County Recorder Stephen Richer as he shares information about elections, your right to vote, and our Constitution.
Accessibility: If you have a disability and need an accommodation to participate, please contact our office prior to the event at terry.mitich@domail.maricopa.edu. Every effort will be made to provide you with reasonable accommodations.
Article by Austin Brietta