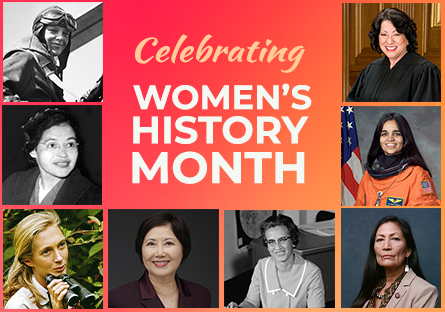 March is Women's History Month! This is a time for us to look back on and honor the remarkable achievements and "herstory" of women around the world. The event began as Women's History Week in 1981 until 1988 when the U.S. Congress designated March as Women's History Month. Since then each year has offered us a month to reflect on the great strides women have made in forwarding human progress.
Celebrate Women's History with Rio Salado College & APUS
Rio Salado, in collaboration with American Public University (APUS), will be presenting a webinar on Thursday, March 30, from 11:00am-12:30pm. This online National Women's History Month: Mentorship & Belonging event will explore the generative power of mentorship in the lives of women.
More information forthcoming!
Learn More About Women's History Month
Our library staff have put together a guide on Women's History Month that features podcasts and resources on women's history, mentorship, and other information about the cultural, scientific, and political achievements of women throughout history.
Reading Recommendations
One way to celebrate Women's History Month is to add more female authors to your media diet. Here are a few recommendations for both modern and classic works of literature by women.
Women's History On The Big Screen
Celebrate Women's HIstory Month by adding some of these classic films by female auteurs onto your watchlists: 
Article by Austin Brietta