Wednesday, November 1, 2023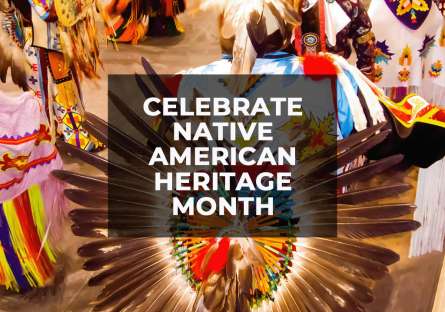 November is Native American Heritage Month! Each year the U.S. pays tribute to the accomplishments of the first Americans by dedicating a month of commemoration in honor of our Indigenous population. There are currently 574 federally recognized tribes, each of which carry their own unique culture and history. There are a great many more who have been lost to time, and Native American Heritage Month is about honoring them, as well.
A History of Heritage
Like a fruit tree sprouting from a little sapling, Native American Heritage Month rose out of a single day. A Seneca Indian, Dr. Arthur C. Parker, proposed the creation of an American Indian Day as a day of recognition. Dr. Parker convinced the Boy Scouts of America to set aside a day to honor the "First Americans." The success of this initiative led the annual Congress of the American Indian Association to proclaim American Indian Day as a national event. In a case of great minds thinking alike, a Blackfoot Indian named Red Fox James had taken to riding horseback across the country to seek approval from each of the states for a day to honor Native Americans. By December 14, 1915, James arrived at the White House with 24 state endorsements for this special day.
Despite the considerable efforts of James, Dr. Parker, and the American Indian Association, an official Native American Day never happened. While some states would go on to designate Columbus Day as Native American Day and/or Indigenous Peoples Day, their dream of a national American Indian Day would go unrealized. Their work was not in vain: thanks to decades of Native American activism, the U.S. government finally passed a joint resolution in 1990 declaring November "National American Indian Heritage Month." The tradition has endured ever since.
Ways To Celebrate
Take some time this month to explore the vibrant art and culture of Native Americans. 
Have you been to the 

Heard Museum

? There is an extensive collection of Native American artwork and historical artifacts. 

You could read novels written by Native American authors like Tommy Orange, Louise Erdrich, and Stephen Graham Jones.

The filmmaker Sterlin Harjo has directed several acclaimed films about the Native American experience, and is also the showrunner of the wonderful FX TV series 

Reservation Dogs

.

Sample the savory and sweet splendors of Native American cuisine!
This is only a small sampling of what you can explore (stay tuned to our blog for a follow-up later this month with more suggestions and ideas on celebrating the season). Above all else: don't forget to listen, educate yourself, and make connections in your community. Native Americans are your neighbors, your co-workers, your classmates, and your fellow citizens. You never know who may have deep ancestral roots into America's rich history.
Learn More
Interested in finding out more about Native American Heritage Month? Our library staff have put together a handy guide packed with information about Native American history and culture. It also includes links to documentaries, featured musical artists, and info on two Rio classes that go in-depth on Arizona's Native American history (HIS105 and ASB245).
Article by Austin Brietta