Tuesday, September 5, 2023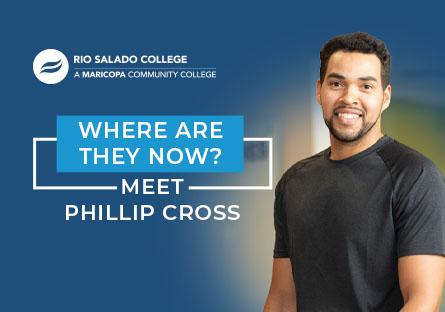 By Mira Radovich, Senior Contributing Writer
Before deciding to go back to school, Phillip Cross already had many life accomplishments to be proud of. The Illinois native graduated from Arizona State University with a political science degree in 2018. 
Prior to that he earned an associate degree from Mesa Community College, where he was a member of the Phi Theta Kappa honor society, and spent time studying in Belgium, France, Italy, Switzerland, Germany and the Netherlands.
But teaching and education has always been Cross's passion, and to make those dreams a reality, the budding educator turned to Rio Salado College.
"I chose Rio Salado because their online structure allowed me to take classes around my full-time job schedule," Cross said. "As an online student, I could log into my classes and work on my studies on my lunch break, before or after work and on the weekends."
Cross chose to pursue his secondary teacher certification through Rio Salado's post-baccalaureate educator preparation program. The program is for people who already have a bachelor's degree in any field (from an accredited university) and want to become a teacher.
"I decided to become a teacher because I feel every child needs a champion," Cross said. "A positive male role model is incredibly valuable in the community. I also credit my influences, like Mr. Rogers, Dr. Martin Luther King Jr., H. W. Brands, and my grandmother who used to play the piano for orphans."
Piano and music have also figured into Cross's life, as he not only plays, but also teaches people how to play.
"My favorite class at Rio was an education course that had students study how the brain functions and retain memories," Cross said. "There was a musical component to the course that I resonated with because I play the piano."
He also recalled bonding with one of his Rio instructors over music.
"One day I emailed one of my Rio instructors about her taste in music," Cross said. "It ended up she also liked classical music. I told her that Modest Mussorgsky's 'Pictures at an Exhibition' inspired me to start taking piano lessons again. And she agreed that it was one of her favorite pieces."
Cross was happy to prove that even at an online college, you can still have personal interactions with others.
"That was the connection I was looking for at a school," Cross said. "I definitely enjoyed being able to make real-life connections at Rio and inspiring other people to look into the things that interest me."
Cross was also inspired by the in-person teaching experience he received last spring.
"I taught at a charter school in Chandler," Cross said. "I worked with third grade predominantly, but ultimately I want to teach social studies at the high school level because it is basically the last transition point in a person's life before they are out in the real world."
Cross is grateful that Rio made an impact on his career option.
"Being a student at Rio was incredibly rewarding," Cross said. "I feel like I have gained a lot of understanding in my career field from the Rio faculty and I am glad that I chose to come back to college. Thanks to the post-bacc program, I am certified to teach, so Rio is a major stepping stone in my career advancement."
Hear more from Phillip Cross about his Rio Salado experience in a video.