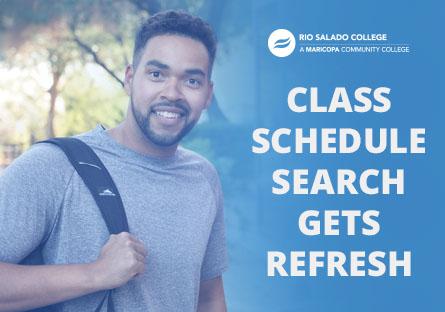 Starting July 19, students will find a refreshed look to the Class Schedule page and an improved mobile experience. The new "Course Search" page will launch under a new URL: https://www.riosalado.edu/schedule/course-search. Please update your bookmarks.
With the new format, students will find it easier to mark their favorite classes, and enjoy an improved mobile experience, enhanced search interface, and a more streamlined user interface. Students will also find it easier to locate classes by "designation" (such as global awareness or literacy and critical inquiry) to meet degree requirements.
The page will also include links to information about block calendar and college catalog, as well as a new link to the Transfer Center.
Check out the page when you're ready to start your next class search. Need help deciding on a class? Be sure to check in with your advisor or success coach.