Thursday, February 23, 2023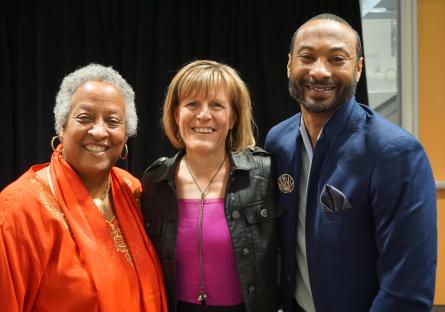 On Thursday, February 9, Rio Salado College celebrated Black History Month with a live event at the Rio conference center. The theme for this year's celebration was Discovering Origins and Honoring Ancestors, focusing on Rio Salado Faculty Chair of Philosophy and Religious Studies Dr. Wanda Tucker's experiences with The 1619 Project and going back to Angola to reconnect with the homeland of her ancestors. The event was live-streamed and recorded, and featured on-site ASL interpretation for the presentations and Q&A between Dr. Tucker and the audience.
President Kate Smith kicked off the event with a moving opening statement on the importance of remembering our past. "Why do we study history," President Smith asked. "One of the reasons is so we can learn how we can change going forward." President Smith held a moment of silence for Tyre Nichols, and then invited Rio librarian Kirstin Thomas to speak about her experiences using ancestry library resources.
Dr. Floyd Hardin III warmly introduced Dr. Tucker to the audience, inviting the audience to take another moment of silence after sharing his experiences dealing with racist micro-aggressions.
Dr. Tucker shared the story of her ancestors Isabella and Antony, who were forcibly brought to the New World by English privateers in August 1619 on the English ship The White Lion. The Africans on-board The White Lion were the first Africans brought to Virginia, introduced to American soil a year before the arrival of the Mayflower. Dr. Tucker spoke of their plight in empathetic, powerful language.
"There was nobody that looked like them to say welcome," Dr. Tucker said. "Nobody said, let us show you around. They had to learn the language. They had to learn the culture. They had to learn the land that they were forced to work on... There was no book to tell them what to do."
Dr. Tucker shared her experience about traveling to Angola and experiencing the country of her ancestors first-hand. She shared her pride about being part of the 17th generation of Tuckers in America, and reflected on the tremendous pain that millions of slaves and their descendants carried with them through the years.
"You don't know who you are, don't know where you're from, don't know where your family members are," Dr. Tucker said. "It destroys your soul and your psyche. You don't have that sense of community."
After finishing her presentation Dr. Tucker engaged in a lively and thoughtful Q&A with the audience.
Experience History
Watch Discovering Origins and Honoring Ancestors in this video.
Article by Austin Brietta