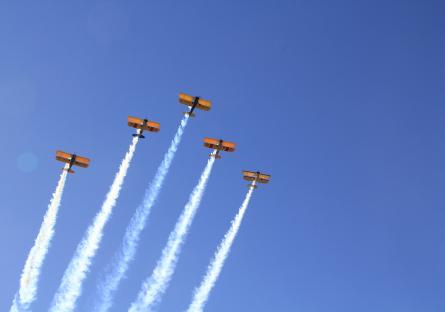 May is a special time to honor the brave service members and veterans who serve our country. With Memorial Day and Armed Forces Day occurring in May, there's no better time to honor the people whose dedication and sacrifices keep us safe. If you're an active service member or veteran, Rio Salado College thanks you for all you've done. We also want to let you know that there are many resources available that can make it easier for veterans, active military, and their families to go back to school while also saving money.
If you're thinking of going back to school, take a look at these programs and resources that can help you earn college credit, find scholarships and grants, and give you the career support you need to help you get ahead in civilian life.
Prior Experience
Your time in the armed forces didn't just build your character—it also provided you with training and invaluable experience that could help you earn college credits! As part of the Maricopa Community Colleges district, Rio Salado offers credit for prior learning evaluation that could award you up to 30 college credits if you've received training that parallels a discipline offered by the school. You could also receive credit if you've completed programs during your service that could count as a prerequisite or elective credit. You could earn credit hours in Physical Education just for having successfully completed Basic Training!
In order to receive credit for military experience, you'll need to provide official transcripts documenting your military training. You may also want to consult the American Council on Education (ACE) Military Guide to find out more about how your military education and training can transfer as college credit. The ACE guide can also point you to resources for saving money on college tuition and finding professional associations and other job search resources.
As a military service member, you are also eligible to take College-Level Examination Program® (CLEP®) exams to get college credit for prior study. If you've studied at other schools, learned a language abroad, or developed comprehensive subject knowledge through home-schooling, taking a CLEP® can help you earn prerequisite courses and get a head-start on completing your degree or certificate program.
The VA
Always check the U.S. Department of Veterans Affairs to see if you qualify for any existing benefit programs. Thel GI Bill® comparison tool can show you what kind of VA education benefits you may be eligible to receive and approved schools and employers across the nation. Don't forget to look at state veterans services: you may find grants and scholarships available at the local level that could clear a path back to higher learning. For example: the state of Arizona offers a tuition waiver scholarship for resident veterans who have been injured or wounded in the line of duty (as well as dependents of service members killed in action).
Scholarships
In addition to scholarships and grants offered by states and the federal government, there are non-profit organizations and charitable foundations that offer funding opportunities for service members, veterans, and their dependents. A few of the more notable opportunities include:
There are databases and tools for finding active military and veterans scholarships online. The U.S. Department of Education can also be a very helpful resource for finding grants, and offers a few military funding opportunities through their Veterans Upward Bound program and Centers of Excellence for Veteran Student Success.
Student Life
Joining a student group or honors society can be a great way to network, find employment opportunities, and gain access to exclusive scholarships that are only available to participating members. Rio Salado College hosts chapters of Phi Theta Kappa (PTK) and the National Society of Leadership and Success (NSLS), two organizations that are highly engaged with the local community. The skills of teamwork, leadership, and discipline you learned in the services would be of great benefit to these organizations, and they in turn could help you move forward with your educational goals. 
Yellow Ribbon Program
If you reside outside Arizona and are looking for additional funding to help your education, the Yellow Ribbon Program may benefit you. The Yellow Ribbon Program is a part of the Post-9/11 Veterans Educational Assistance Act of 2008. This program allows U.S. institutions of higher learning to voluntarily enter into an agreement with the Department of Veterans Affairs (VA). Degree-granting institutions partner with VA to cover tuition and fee expenses that exceed the in-state rate. Schools can contribute a specified dollar amount. VA will match the amount, not to exceed 50 percent of the difference. Visit our Rio Salado Yellow Ribbon page to learn more.
The Yellow Ribbon Program offers funds on a first-come, first-serve basis. Eligibility requirements:
You served at least 36 months on active duty (either all at once or with breaks in service) and were honorably discharged, or
You received a Purple Heart on or after September 11, 2001, and were honorably discharged after any amount of service, or
You served at least 30 continuous days (all at once, without a break) on or after September 11, 2001, and were discharged or released from active duty for a service-connected disability, or
You're an active-duty service member who has served at least 36 months on active duty (either all at once or with breaks in service), or
You're a spouse using the transferred benefits of an active-duty service member who has served at least 36 months on active duty, or
You're a dependent child using benefits transferred by a Veteran, or

You're a Fry Scholar
Veteran Services and Support at Rio
Rio Salado's Veterans Services is here to help you make a smooth transition from active service to the classroom. Our Veterans Services Office acts as a liaison between the college and the Department of Veterans Affairs and helps process Veterans education benefits. 
Our Military Advisement team can help service members and their spouses and dependents find the right classes and pathways to help them meet their goals. Military Advisement can also provide information on transfer credits, dedicated student services, and help you find the resources you need to ensure your eligibility. 
Don't forget that if you're an active service member you must receive approval from an Educational Services Officer (ESO) or counselor within the Military Service prior to enrolling.
Military Advisement can be contacted via email at military.advisor@riosalado.edu or by calling 480-517-8590. Veterans Services can be reached at va@riosalado.edu or by calling 480-517-8153.
GI Bill® is a registered trademark of the U.S. Department of Veterans Affairs (VA). More information about education benefits offered by VA is available at the official

U.S. government Web site

.