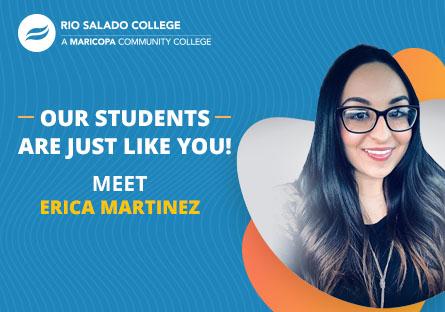 For Mesa-born and raised Erica Martinez, going back to school while working and raising a family was a daunting prospect. 
"I have four kids, a husband, a dog, and a full-time job managing over 25 employees," Martinez said. Martinez has worked in banking for 17 years and currently does operations administration for a local community bank. "Flexible scheduling and being able to complete my work at my own pace was the most important thing in deciding which school to attend while pursuing my associates degree."
For Martinez, Rio's block calendar system and easy online enrollment made for a smooth transition back into student life.
"It felt like one day I decided to go back to school and I was literally starting classes a week or two later," Martinez said. "It was almost too easy."
Working with Rio's online faculty and staff was a positive experience for Martinez, who discovered a new professional passion while studying at Rio.
"Pursuing my degree at Rio Salado has been amazing, challenging, and most of all, enlightening," she said. "I was fortunate to work with amazing professors in the business department that really captivated me and made business so engaging and fun to learn. These professors greatly contributed to me discovering my passion for business, accounting, and ethics which compelled me to change my major to business law. Taking the classes required for my associates degree has also made me a much better leader and employee in my current job while preparing me for my next potential career moves."
One of Martinez's favorite experiences as a student at Rio Salado was taking Professor Stephanie Smith's MAT217—Mathematical Analysis for Business class. A rigorous introduction to probability, linear programming, and other forms of math that impact business studies, Smith's course proved to be a rewarding challenge for Martinez.
In a letter to Rio Salado College President Kate Smith, Martinez praised Smith for her caring and compassionate manner. She also expressed gratitude for her instructor's flexibility and willingness to help her prepare for exams.
"Professor Smith gave me the confidence and support I needed to be a good mom and be there for my family, but still have a successful semester," Martinez wrote. "I'll never forget her kindness and encouragement!"
Martinez also praised several of Rio Salado's tutors for their patience and understanding. "I wish I had taken advantage of the tutoring center much earlier in my college career because they are absolutely amazing!"
When asked what kind of tips she would offer students who haven't taken online classes before, Martinez emphasized the importance of communication. 
"Some classes can be a little more challenging than others so it is very important to use your resources! Message your professor if you don't understand something. Take advantage of the tutoring center, or online/virtual tutors. This was especially helpful with my math classes. Don't wait until you are seriously overwhelmed, stressed, or struggling to ask a professor or tutor for help!"
Martinez also found it valuable to connect with student groups and participate in the Rio community. 
"I joined Phi Theta Kappa Honor Society," she said. "I didn't think there were opportunities for this kind of stuff since Rio is an online school, but it has been such a wonderful experience. I have had opportunities to interact with the college president, faculty, and even board members. I have also been invited to participate in several events, leadership seminars, meetings, and trips that I would not have been a part of if not for Rio Salado and PTK."
As a student at Rio Salado, Martinez found the school's online learning platform RioLearn to be intuitive and easy to use—a user experience that turned out not to be universal when she took classes elsewhere.
"I attempted to take a class at another school a couple years ago and was not impressed with their online platform," Martinez said. "I quickly dropped the class and returned to Rio."
Part of what Martinez found so useful about RioLearn is how detailed the syllabi are, and how the platform clearly communicates to users the online resources that are available and/or needed for their courses.
"I feel that I am given everything I need to be successful in my classes online and I am able to complete my work in a way that works best for my work and family schedules."
Martinez is currently pursuing an Associate in Business degree with a projected end date of Fall 2023. She's already been accepted to the W.P. Carey School of Business at Arizona State University, where she plans to work toward a degree in business law.
Casting an eye to the future, Martinez hopes to someday reach an executive management position in banking or some other business-related field. "I realize it is a big dream, but I plan to work hard and continue my education to get there."
While Martinez will soon move on to continue her education, she is grateful for her time at Rio Salado.
"I have seen firsthand how everyone at Rio goes above and beyond to show kindness, empathy, and compassion to anyone seeking a degree or certificate," Martinez said. "I think nowadays with rising costs of tuition and with a lot of students learning online, it is easy to feel like a number or like a school may only be interested in collecting your payment. I promise, Rio is willing and able to provide whatever level of support you need to get to the finish line!"
Article by Austin Brietta