Wednesday, September 6, 2023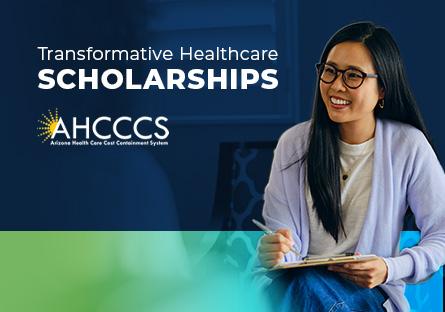 As the need for skilled professionals in areas like social work, counseling, mental health, criminal justice, psychology, and rehabilitation continues to grow, an opportunity is emerging for students who aspire to master the necessary skills and embark on a journey of education and impact.
"Our society is in dire need of dedicated behavioral health providers who can make a lasting impact on individuals' lives," said Dr. Patricia Hernandez, the Faculty Chair of Addictions Studies and Behavioral Health Sciences.
A Scholarship That Changes Lives
Maricopa Community Colleges introduced new scholarships from the Arizona Health Care Cost Containment System (AHCCCS) available to Rio Salado students who are studying or wish to complete a program of study in addiction and substance use disorders. This award covers student tuition, books, course fees, health and safety requirements, and other needed resources for students pursuing a career in direct care and behavioral health.
With funds provided by the American Rescue Plan Act, the scholarship is designed to increase and enhance career development, education, and training opportunities for the Home and Community-Based Services (HCBS) workforce. 
If you're currently on the path to acquiring a degree or certificate, or wish to change course and consider this opportunity, this scholarship could be your bridge to a profoundly meaningful career. Qualified Rio Salado programs include:
Associate in Applied Science (AAS) in Addictions and Substance Use Disorders

Certificate of Completion (CCL) in Professional Addictions Counseling

Certificate of Completion (CCL) in Addictions and Substance Use Disorders Level I

Certificate of Completion (CCL) in Addictions and Substance Use Disorders Level II

Certificate of Completion (CCL) in Substance Use Prevention and Interventions
To delve deeper into the specifics of these programs and the doors they can open, explore Rio Salado College's Addictions and Substance Use Disorders programs.
Seizing the Moment
The moment to seize this extraordinary opportunity is now. If you're ready to be a catalyst for change in the behavioral health landscape, don't hesitate to explore your eligibility and submit your application today. The application window is open for the Fall 2023 semester.
"This scholarship initiative represents a giant stride toward addressing the pressing behavioral health workforce gap within Arizona," Dr. Hernandez said.
Need Help? We're Here for You
Navigating the scholarship application process can feel overwhelming, but you're not alone. We offer one-on-one sessions with our scholarship coordinators. During these sessions, you'll receive guidance on the application process, tips for crafting a successful essay, and answers to any questions you might have. Students must be a Maricopa student in order to access the scholarship application. For additional scholarship-related inquiries, you can reach us at AHCCCS-Scholarships@domail.maricopa.edu or by calling the Maricopa Financial Aid Answer Center at 480-731-8900.
Visit the information page to learn more and apply for the scholarships.