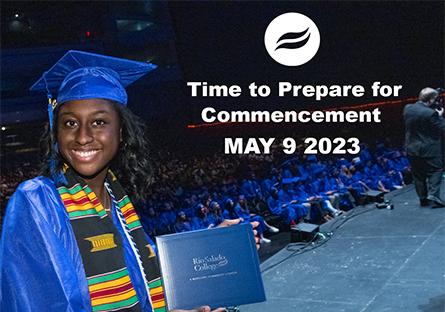 T-minus three weeks before our 2023 commencement ceremony. We look forward to celebrating the Rio Salado Class of 2023 with you. Here are a few reminders and resources to help you and your guests prepare.
We created this fact sheet for students and guests with details on how to prepare in advance and on the day of the event.  Here are important highlights and additional details that may be of interest to you.
Regalia: Students can pick up their regalia April 24 – May 9 once the $25 fee is paid by visiting Admissions and Registration at our Tempe headquarters. For more information call 480-517-8540 or email graduation@riosalado.edu. Honor cords for distinction will be distributed with caps and gowns. PTK students should contact John Bastian to arrange for PTK cords and stoles at 480-517-8656 and john.bastian@riosalado.edu.
Event Day Check In: All students must check in at the Arizona Financial Theatre west side employee entrance. Your guests will be allowed admittance after 6 p.m. through the main doors. Please be advised of venue check in policies. All bags will be searched prior to entry. Bags that are not clear will be subject to additional search. Clear bags are not mandatory. Bags up to 12" x 6" x 12" are allowed. No Balloons or horns.  Please arrange to meet your guests in front of the theatre after the ceremony.
Live Stream and Social: We will stream the event live using our YouTube Event Channel. Share your school spirit, grad stories, videos and photos using #RioWaves #RioGrad #Classof2023.
Visit this web page for the latest graduation news.  
We hope you find this information helpful and look forward to celebrating this special night with you.