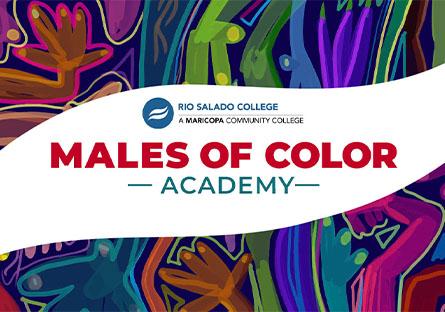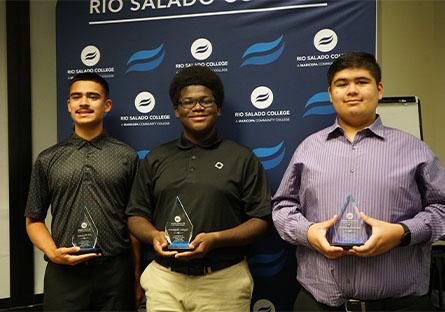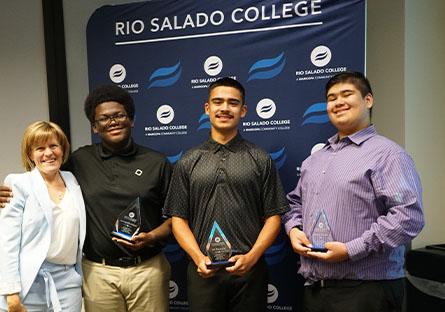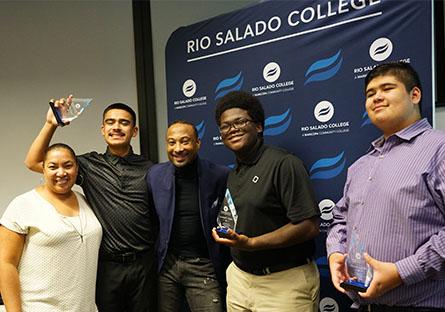 Four Tempe High School students successfully completed Rio Salado's inaugural Males of Color Academy this spring, earning valuable leadership connections and college credits. 
The students - Bryaan Avila Arellano, Damio Garcia, AJ Pacheco, and Jaylon Skoglund from Tempe High School and Mountain Ridge High School - were honored during a completion ceremony last month.
The Males of Color Academy brought the students together for virtual, weekly lessons with Rio Salado's Dr. Floyd Hardin III and Mrs. Mijolae Henley, who walked students through their Psychology 101 and Reading 113 lessons, discussed future plans and provided opportunities to grow their relationships with one another. Students even heard about future opportunities in careers, including pilot training with American Airlines.  
Three of the students - Pacheco, Garcia and Skoglund - graduated high school in May and will attend Arizona State University in the fall. Avila Arellano will finish high school next year.
Skoglund expressed his journey story during the program celebration, stating, "The start was a little rocky, a little confusing, but we got ourselves together, progressed. We started learning ... and now we finished, guys!" 
Pacheco, an International Baccalaureate candidate and football team captain, initially found the workload overwhelming but learned the invaluable skill of time management. 
"In high school they just give you to do over time but here it comes all at once. My key takeaway was ...  learning how to balance my school work with my personal life. It was very hard but I managed it so that's a good skill to take away," he said.
Garcia reflected, "This class helped teach me that if it gets overwhelming, just break the work down and you'll be fine."
The academy aims to make the next four years easier for students, providing ongoing support and a brotherhood of fellow scholars, said Hardin, Rio Salado's Executive Officer, Equity and College Relations. 
"One of our core values here is resilience," he said. "We talk about our four practices of engagement and mindfulness, empathy, happiness and what I would say is the four of you have epitomized those … coming through every Saturday with assignments that are not easy, that really stretched who you are as a person, stretched your skills as an academician and your leadership and writing as a man."
Rio Salado President Kate Smith reiterated the students' accomplishments, noting what they have gained in the process.
"You've put a stake in the ground that you're never going back from," she said. "You can always do what you set your mind on. Always. You've shown it. You've proven it."
The Males of Color Academy was founded by Hardin and Dr. Wanda Tucker, Rio Salado Faculty Chair of Philosophy and Religious Studies, using grant funds awarded to the college. 
"It was designed to dispel the myths and statistics that high school males of color cannot achieve like other groups in higher education," Tucker said. "It was designed to prove your academic prowess and intellectual abilities to master college course work as high school students. And guess what, you did it! Congratulations. We are so very proud of you."
The students' achievements highlight their determination and resilience, said Henley.
"The challenges you've faced, the setbacks you encountered, and the pressure you've experienced have tested your resolve, yet you have not wavered," she told the students. "Instead you've risen above the difficulties showing unwavering strength in the face of adversity. You've demonstrated the ability to adapt and to persist and to learn from each obstacle."
The next cohort of the Males of Color Academy will begin in late June. Applications will open soon to qualified students throughout the Valley interested in taking advantage of the free college opportunity. Upon successful completion of the program, students will earn six college credits. All selected students will receive a scholarship that covers tuition, books and fees.
To learn more, email jennifer.moore@riosalado.edu, marissa.tarango@riosalado.edu, or floyd.hardin.iii@riosalado.edu