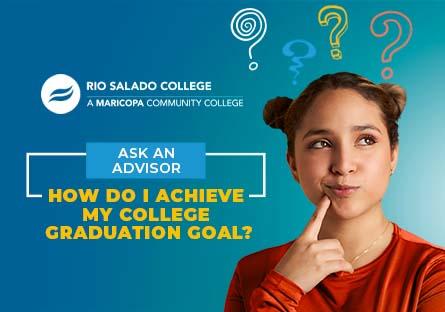 A new year is often a time to evaluate and re-evaluate your goals for the future. Do you have a goal to complete a college certificate or degree in the near future? To get started and stay on track, set your educational goals. Here are five steps to set your college graduation goal and achieve it!
Step 1: Define Your Goals

 
When it comes to setting goals for your future, you don't have to be limited by what others think is possible for you. The first step in achieving any goal is acknowledging that you have one. Once you've acknowledged that something is important, start planning how to achieve it. What are you looking to achieve? A new job? A promotion at work? Starting your own business? If a certificate or degree is important, start planning how to complete it. Make a plan of action, set a deadline, track your progress, and celebrate each milestone along the way.
Step 2: Make a Plan
Once you have decided on your goal, develop a plan to reach it. How many classes are you able to take each semester? In general, someone working full-time is able to take a part-time schedule of around six credits (two classes) and someone working part-time or less is able to attend school full-time with 12 or more credits (four or more classes). Your academic advisor can help determine a realistic semester schedule and also help map out your needed classes into a semester-by-semester plan. As you set your educational goals, also set goals for other areas of your life so you are able to balance work and life with classes.
Step 3: Set a Deadline
Now that you know the pace of taking classes and the classes you need, you can set a deadline. Setting a deadline is essential to successfully completing your college graduation goal. By setting a date by which you want to complete all required coursework and graduate, you create a more realistic goal and provide yourself momentum and motivation. You can see yourself getting that new job, earning a promotion, starting your business, or moving on to the university.
Step 4: Take Action!
The next step is to take action and make sure you achieve your goals! Here are a couple of tips to help you along the way:
Each week plan time to study and do your class assignments.

Find a support system. It can be really helpful to have someone hold you accountable and push you to reach your goals.

Find a group of friends or family members who will support your efforts and lend a hand when needed.

Use the many student resources available at the college such as Tutoring or Counseling and Career Services.

Check in with your advisor before your next round of classes or whenever you have questions or need some help.
Step 5: Celebrate Your Success!
When you set a goal, it is important to celebrate successes along the way. Recognize your progress each week in your classes and celebrate each semester as you look forward to the next. Find ways to reward yourself and also spend time with people who support your journey. Look forward to your graduation day where you can celebrate with those family and friends. The most important thing is to keep pushing forward and never give up on your dreams!
David Hall is the Director for the Academic Advisement Department at Rio Salado College. He can be reached at david.hall@riosalado.edu.