Friday, November 17, 2023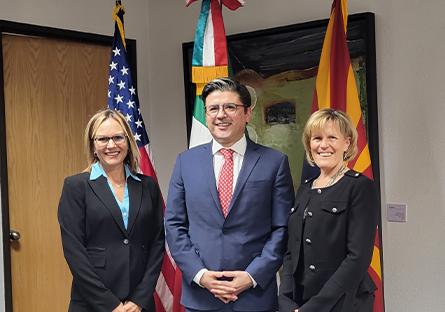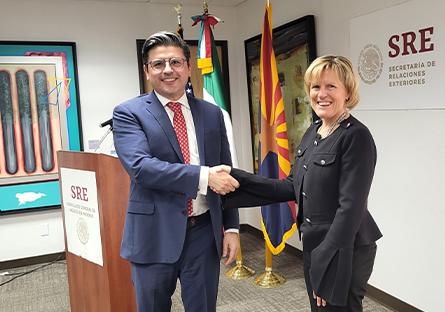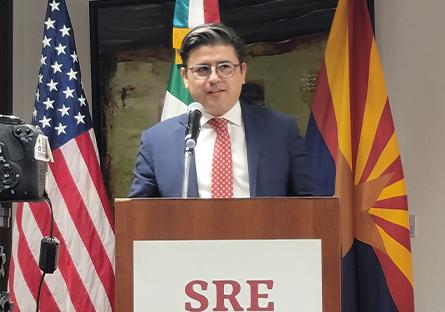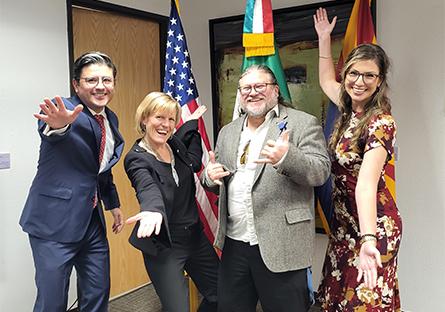 Rio Salado and the Maricopa Community Colleges kicked off their International Education Week celebrations on Nov. 13 with an informative keynote address by the Honorable Consul General Jorge Mendoza Yescas from the Mexican Consulate in Phoenix.
International Education Week is a joint initiative of the U.S. Department of State and the U.S. Department of Education celebrated Nov. 13-17 in 2023. This initiative is dedicated to promoting the benefits of international education and cross-cultural exchange worldwide.  
During his address, the Consul General shared information about the Consulate's programs and services, and the vital work it does to promote the education of the migrant community.
"I hope this week's celebrations bring to light the many benefits and critical importance of global learning," said Rio Salado President Kate Smith, who shared welcome remarks on behalf of the Maricopa Community Colleges Chancellor Steven Gonzales.  
"I want to extend my thanks to all of the incredible Maricopa Community Colleges International Education specialists for coordinating this year's events and the work they do all year long," said Smith.
Smith serves as the Co-Chair for the Arizona Mexico Commission Education committee, which is dedicated to further expanding higher learning opportunities on both sides of the shared border.  
Governor Katie Hobbs signed a proclamation on Oct. 13th, naming November 13-17 as International Education Week in Arizona.
According to Open Doors, more than 49,000 international students enrolled at U.S. community colleges during the 2021-22 academic year. The Maricopa Community Colleges serves an average of 550 international students on F-1 Visas and 15 J-1 Visa students from 80 countries.  
The Maricopa Community Colleges offer many exciting global learning opportunities for students who want to study abroad or come here to study at the 10 community colleges.
The U.S. Department of State International Education homepage features a prominent statement: "international education is integral to building and sustaining a more democratic, secure, and prosperous world." We agree and encourage you to learn more at https://iew.state.gov/.
Explore International Education Opportunities with Rio Salado College.