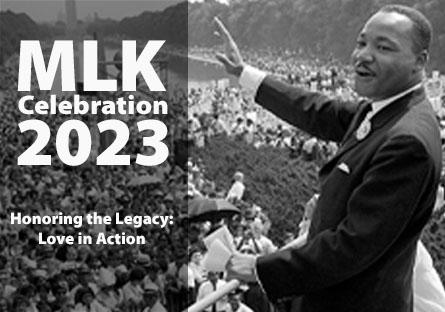 Celebration
Last Monday was Martin Luther King Jr. Day. We continue to honor the spirit of Dr. King this week with a special event Friday. Join us online as we celebrate the life of one of America's greatest humanitarians—a man who tirelessly and eloquently advocated for a better world where equality, dignity, and harmony are the birthright of all mankind.
Honoring The Legacy: Love in Action
Please join us on Friday, January 27, for our 5th annual MLK Celebration. Presented by Rio Salado College's Diversity, Equity, Inclusion, and Belonging Committee, this event will be held in-person from 12-1:30 P.M. and the community is invited to join us virtually via YouTube Live. This tribute to the life, work, and enduring legacy of Dr. Martin Luther Jr. will feature a keynote address by Tempe City Council member Berdetta Hodge. YouTube Live Event Link: https://www.youtube.com/watch?v=zX-KfOJETGc
About the keynote speaker:
Berdetta Hodge is a Tempe City Council member and has been a resident of the city of Tempe for over 40 years. She is a graduate and parent of Tempe schools, a leader in Tempe charities, and a lifelong contributor to our city through public service and a passion for community-building. Berdetta brings experience managing one of Arizona's best school districts. In 2016, Berdetta made history, becoming the first African American woman elected to public office in the city of Tempe. She has served in leadership for the last three years as President and Vice President of the Tempe Union High School District Governing Board, where she has stood as a champion for the needs of students, educators, staff, and working families.
Why We Celebrate MLK Day
The first Martin Luther King Jr. Day  was officially observed in all 50 states on January 20, 1986. While the holiday was signed into law in 1983, some states resisted observing the holiday at first. Efforts to honor King's legacy with a national holiday had been in the works for decades, ever since his assassination in Memphis in 1968.
MLK Day commemorates the life and work of Dr. King, a Baptist minister, rigorous thinker, and civil rights leader. Dr. King was a staunch advocate of nonviolent protest, a nuanced position he expressed in great depth in his Letter From Birmingham Jail. His unwavering belief in racial equality and the necessity for transformative social change helped change the nation. Dr. King oversaw the 1955 Montgomery bus boycott and organized protests in Birmingham, Alabama, that drew the nation's attention to the deplorable violence and inhumane treatment meted out to African Americans. King was one of the architects of the 1963 Civil Rights March on Washington D.C. (where he delivered his most famous speech). 
The U.S. government passed the landmark Civil Rights Act of 1964, Voting Rights Act of 1965, and the Fair Housing Act of 1968 thanks to the unceasing efforts of Dr. King and other activists in the civil rights movement. Dr. King won a Nobel Peace Prize for his work in 1964. While Dr. King was primarily focused on the plight of his community, he began to expand the scope of his critiques in later years, turning his sharp wit and desire for justice towards global concerns like the Vietnam War and economic disparity. When he was assassinated on April 4, 1968, riots broke out across the country as people mourned his loss. 
This holiday is meant to encourage Americans to reflect on Dr. King's life and message, and to honor the civil rights struggle and the many brilliant men and women (including Medgar Evers, Malcolm X, and Fred Hampton) who paid a high price so that future generations could be free.
Learn More
If you want to learn more about MLK, our library staff have put together a guide full of informative resources and media. Our library guide includes a biography of Dr. King, an overview of the Civil Rights movement, and videos of some of MLK's most resonant speeches (including his iconic 1963 "I Have a Dream" speech at the Lincoln Memorial).
Rio Salado College is committed to providing universal access to all of our events. Please contact Christina Bolyard, christina.boylard@riosalado.edu, 480-517-8562 to request disability accommodations. Advance notice is necessary to arrange for some accessibility needs.
Article by Austin Brietta