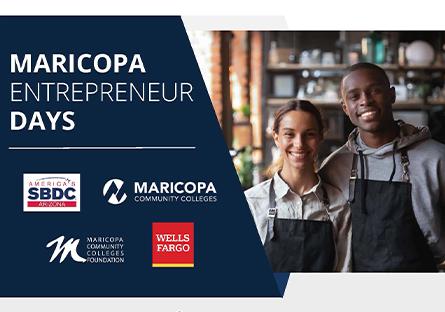 Maricopa Entrepreneur Days is presented by the AZSBDC Network and is an opportunity for students, like you, to learn about Advancing Entrepreneurship grant opportunities including scholarships and small business development. This grant is helping to strengthen the small business community in Arizona. Join us at one of our in-person or virtual events to learn more.
By attending this event you will learn about:
College Scholarships: Learn about scholarships available for students in Entrepreneurial Studies and Small Business Management courses at any of the 10 Maricopa Community Colleges. A Maricopa Community Colleges Foundation staff member will be available to help you apply for scholarships ON. THE. SPOT!
Courses & Programs: Hear from Maricopa Community College staff and faculty about Entrepreneurial Studies and Small Business Management courses and programs, outcomes, and opportunities. Apply for admissions and enroll in courses with dedicated staff on-site to help!
Extra-Curricular Involvement: Find out about student clubs, micro-grant opportunities, and "shark tank" style pitch competitions that will enrich your learning and accelerate your small business ideas toward success! All college entrepreneur students are eligible to join and win.
Community Resources & AERO Marketplace: Discover the available community resources to launch, grow, and expand a small business. Gain insight, training, tools, and expert counseling services from successful business owners at the Maricopa SBDC Center. Sign up as an SBDC client at one of our college events to receive assistance with small business lending and connect you to paid project (gig) work through the AERO Marketplace - the SBDC's online environment created especially to support entrepreneurs. Let them show you how to get involved. RIGHT. NOW!
Event Details:
Tuesday, May 2, 2023
5:30 pm - 7:30 pm
RSC Thomas
(3631 W. Thomas Rd. Phoenix 85019)
Wednesday, May 3, 2023
12:30 pm - 2:30 pm
Rio Salado Conference Center
(2323 W. 14th St. Tempe 85281)
Register here.