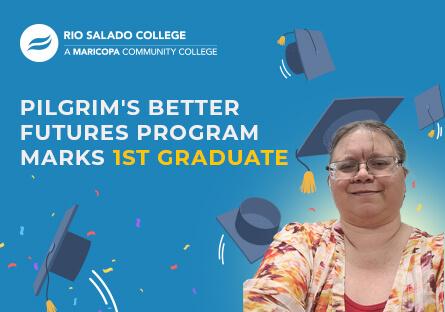 HR Employee First to Complete Rio Degree with Pilgrim's Better Futures Program
When Kentucky resident and Pilgrim's onboarding supervisor Terrie Sullivan learned about the company's Better Futures program, which provides the opportunity to earn a degree through Rio Salado College tuition free, she took full advantage. Today, Sullivan is Rio Salado's first graduate from the free college tuition program at Pilgrim's.
Sullivan recently completed an Associate's of Applied Science – Management, with a focus on Human Resources Management. She finished her degree with distinction, a mark of high academic achievement.
"I felt that management experience, along with the business classes, would help me understand how and why certain decisions are made and how they affect the general workplace," Sullivan said.
Sullivan said one of the best features of the program is the flexibility, allowing her to fit education in her already packed life.
"Because all of my classes were online, it was easy to fit those assignments in when I had free time. All lessons are accessible ahead of time. That allowed me to plan out the assignments throughout the semester," Sullivan said.
With her education, Sullivan said she can now better support her department and stay within the law when interacting with team members. Plus, she said, "I can use the skills learned to promote within the human resources department or to a supervisory position."
Sullivan said she is grateful for the Pilgrim's Better Futures program.
"Everyone involved in the process has been very helpful and knowledgeable. Submitting the application and completing the enrollment process was stress-free. Any time I ran into an issue, I knew who to contact to get it resolved quickly," Sullivan said.
Thanks to the Pilgrim's Better Futures program, Sullivan was able to achieve her dream and can look to advance her career.
Today, there are 46 students enrolled with Rio Salado through the Pilgrim's Better Futures Program, striving toward career advancement.