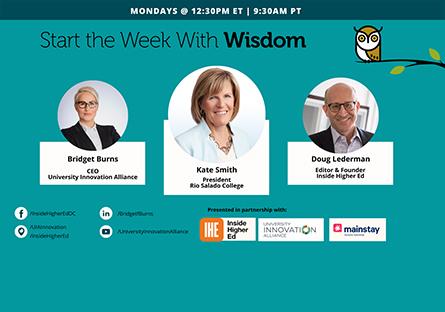 Rio Salado President Kate Smith was a featured guest on Inside Higher Ed's Oct. 23 Weekly Wisdom podcast. She was interviewed by co-hosts University Innovation Alliance CEO Dr. Bridget Burns and Inside Higher Ed Co-founder and Editor Doug Lederman to share her leadership principles.
Weekly Wisdom features conversations about leadership with higher education presidents, chancellors, and national leaders. The podcast is designed to elevate the voices and values of leaders the hosts see as leading higher education into the future— and to inspire audience members, who are primarily higher ed administrators, faculty and staff listening to the podcast as part of their professional development.
"I am grateful for the chance to have such a meaningful and candid discussion about leadership— and the work being done by Dr. Bridget Burns and Doug Lederman," said President Smith. "This is a valuable forum for current and future leaders to learn from one another. I welcome the opportunity to continue the dialogue." 
Learn more about President Smith.