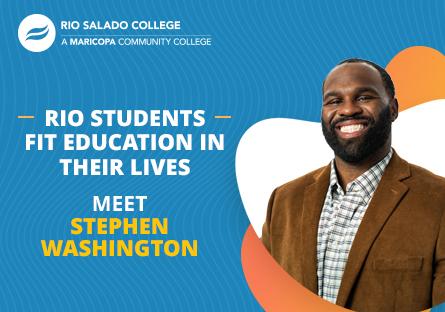 With years of experience in real estate investing, Rio Salado College student Stephen Washington knows that opportunities abound in the field. He first got the real estate bug while living in Michigan but made the move to Arizona for sunnier skies.
He also took steps to turn his interest and experience into a professional career by enrolling in Rio to earn his prelicensure education and certificate - the first move toward obtaining a real estate license.
"I just always felt real estate was the way to wealth and homeownership. I felt real estate was the way to grow wealth and be financially independent," he said.
Washington was already familiar with Rio Salado, having taken accounting courses a decade ago, when he learned about the real estate program last fall.
"It's so convenient because of the online aspect of it," he said.
Re-engaging in education after time away - and now with two businesses and a teenage son - meant setting forth with a plan, he said.
"I am a parent and business owner with many responsibilities and tasks," he said. "With all these responsibilities, I believe that it is imperative to manage time, prioritize, and set goals. I choose to do my assignments during the morning hours when my mind is the sharpest, the house is quiet, and I am able to concentrate.
"Rather than attempting to complete entire assignments at once, I break assignments down into small manageable tasks. I spend at least an hour at each sitting completing these tasks. I never wait until the last minute to complete assignments. This is the strategy I use to fit school into my life."
With his education nearly complete - he will finish his certification this spring - Washington will meet a goal that he believes can put him ahead.
"That's been a lifelong dream," he said. "I've been involved in it (real estate) but I never had a license. I felt like the license would give an advantage."
Though the path has been long - Washington completed a long prison sentence for a marijuana violation in the last year - this journey will fulfill many areas of his life, he said.
"I want to inspire people who are facing various trials to know that they can still accomplish their goals," he said.
With the Certificate of Completion (CCL) in Real Estate: Prelicense, Washington and his fellow cohort members will be able to take the Arizona State Real Estate Salesperson's Exam, allowing them to work in the field under a broker. After three years, they can take another exam to become brokers themselves.
Washington then plans to not only start his career in real estate, but continue his education, finishing that business degree he started years ago.
"This will be something great for my son to see. Something great to show for my family," he said.