Wednesday, January 18, 2023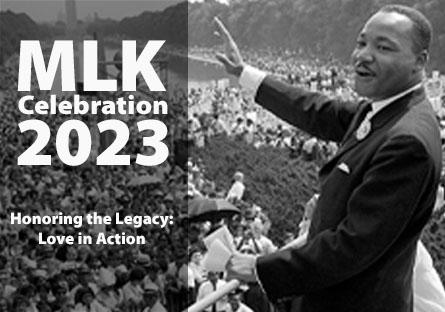 Save the date for Rio Salado College's 5th annual

MLK Celebration

Jan. 27, 12-1:30 p.m.
Please join us to commemorate the transformational work of Rev. Dr. Martin Luther King, Jr., during our 5th annual collegewide MLK Event.   
It is an honor to continue hosting this special program that promotes unity, hope, healing and equity. And, this year we welcome City of Tempe Councilmember Berdetta Hodge as our keynote speaker, to inspire us with her journey as we celebrate this year's theme: Honoring The Legacy: Love in Action. 
The live event will be streamed on YouTube for virtual viewers. This event is presented by Rio Salado's Diversity, Equity, Inclusion, and Belonging Committee to help foster a culture that values and honors everyone's unique qualities with respect and dignity.
We hope you can join us!
For more information about this remarkable man and his enduring legacy, check out this guide our library staff put together. It's full of resources, historical information, and media to explore about MLK Day.
Rio Salado College is committed to providing universal access to all of our events. Please contact Christina Bolyard, christina.boylard@riosalado.edu, 480-517-8562 to request disability accommodations. Advance notice is necessary to arrange for some accessibility needs.