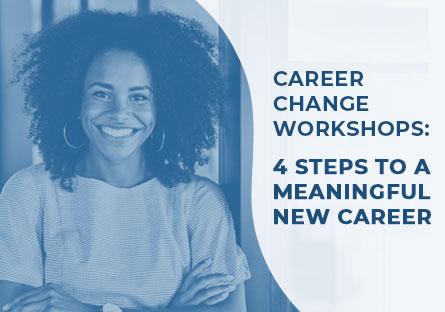 Open to all community members, these events are designed to help you transition into your first career or make a career change.
What does it mean to have a personal brand? What's the best way to search for a job? How do I prepare a resume or get ready for an interview?
Rio Salado students, alumni, and community members are invited to take part in a series of four workshops starting in February: 4 Steps to a Meaningful New Career.
These engaging sessions are designed to answer these questions and more. Led by a 20-year educator with experience as a director of career services, an academic advisor/career, and a professional personal development coach, participants will take away steps and ideas to use immediately to make their next career move.
"Everyone asks the question, 'what next?' but often doesn't know where to start," said Rio Salado College's Career Services Supervisor Carole Redden, who will lead the workshops. "The series was designed to give participants the tools and resources needed to change careers with confidence!"
These engaging sessions are FREE and open to Rio Salado students and alumni as well as community members. They are offered live online via Webex from 1:30-2:45 p.m.
For more information contact: career.services@riosalado.edu  
You can also register for all seminars at www.riosalado.edu/4-Steps
Join us for one event or all four! Sign up today. 
February 14: Personal Branding
Understand what a personal brand is

Describe your personal brand

Identify dream employers and their brands

Determine if your brand aligns with their brands

Identify actions to increase alignment between your brand and your dream employer's brand
February 21: Job Search Strategies
Understand what to do before, during, and after your search to save time and focus on the employers that most align with your brand

Understand how to use sites such as Indeed, PipelineAZ, and LinkedIn to strategically search for jobs

Understand the importance of "connectworking" in person and on LinkedIn 
February 28: Resumes and Cover Letters
Understand how to state your accomplishments and strengths clearly and concisely

Understand how to communicate gaps in employment

Identify the best resume and cover letter format to highlight how your specific skills and experience exceed the job requirements

Apply your content to a FREE chronological resume template
March 7: Interview with Confidence
Understand the actions you can take before, during, and after the interview to increase your confidence and stand out as the best candidate.

Understand how to use the STAR method to answer behavioral questions

Understand how to use your resume as a tool during the interview