Thursday, February 2, 2023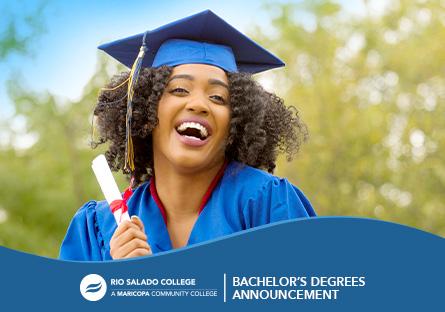 By Mira Radovich, Senior Contributing Writer
This spring, Arizona students will be able to register for bachelor's degree programs at Rio Salado College for the first time in its history.
The Higher Learning Commission, during a December meeting, approved two bachelor's degrees to be offered by Rio Salado College in 2023.
The move is part of Arizona Senate Bill 1453, a 2021 initiative by former Governor Doug Ducey that allows community colleges to offer baccalaureate degrees under limited circumstances.
Over the past year, the Maricopa Community Colleges have identified and developed seven bachelor's degree programs.
The degrees available through Rio Salado are:
Bachelor of Arts in Education with dual certification in Elementary/Special Education

Bachelor of Applied Science in Public Safety Administration
"This is a major milestone for our college and community," said Dr. Kate Smith, president of Rio Salado College. "I would like to thank our dedicated faculty and staff for all the hard work to help us become one of the first community colleges in Arizona to offer bachelor's degrees."
Allowing community colleges to offer bachelor's degrees gives future college students increased access to affordable higher education.
"Students can expect to receive a quality education at a much lower cost than state or private universities," said Angela Kwan, Rio Salado faculty chair for Administration of Justice and Paralegal, one of the two approved bachelor's degree program areas for the college. 
In addition to saving money on tuition rates, Rio Salado College students enjoy quality education from professionals in the field.
"During the design of the Public Safety Administration curriculum, we collaborated with public safety stakeholders who helped develop the program's learning outcomes," Kwan said. "In addition, our courses will be taught by practitioners who have both field experience and educational qualifications to teach upper-division courses."
"Our goal is to prepare students in public safety career fields to become effective leaders and stewards of their community," she said.
The second bachelor's program to be offered - education - is in a field that is in great demand, making a bachelor's degree attractive at this time.
"This is a terrific time to enter the teaching field," said Jennifer Gresko, Rio Salado College Faculty Chair for Educator Preparation Programs. "There are many opportunities to grow and make a difference in your community. Rio Salado will be able to provide you with an affordable option to prepare you to enter the workforce!"
Other benefits enjoyed by Rio Salado students include the convenience of online classes, a flexible start date model – up to 48 start dates per year, accelerated 8-week course options and dedicated student support services throughout their educational journey.
When can I register for the bachelor's degree programs?
Priority registration for returning students begins March 6. New students can register beginning March 23. Classes begin in fall 2023. 
How much will bachelor's degree programs cost?
The tuition rate for lower division courses in the Bachelor's Degree programs will be $97 per credit hour, while the rate for upper division courses will be $145.50 per credit hour. These rates were approved by the Maricopa County Community Colleges Governing Board on Dec. 13.
Can students take 100-200 level courses at any college? Will classes be online or in-person? 
A student may take classes at any of the 10 Maricopa Community Colleges. At least 30 credit hours must be completed at the college conferring the degree. Classes will be online, in-person, live online, and hybrid. 
Where can I find more information?
Please visit maricopa.edu/bachelors-degrees for information on the bachelor's degrees offered by the Maricopa Community Colleges.