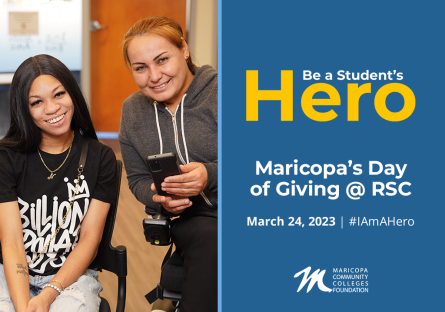 We are excited to announce that Rio Salado College, the Maricopa Community College District and the Maricopa Community Colleges Foundation will celebrate its third annual Be A Student's Hero campaign on March 24, 2023.
This week of giving invites you to create opportunities that enrich and transform students' lives. Just hear it from one scholarship recipient:
"I'm a Navy Veteran and becoming a teacher is my way of giving back for what the military has given me," said Lloyd Whitty, a Fall 2022 Melody Layne Miller Memorial Scholarship recipient. "I'm currently in the Teacher in Residence program. My GI Bill benefits will expire in May. I have one more year until I finish the program and I don't want to incur any student debt. This scholarship will help me continue my education and graduate in May 2023 as a certified special education teacher."
Students just like Lloyd will enter the Valley's workforce and make a valuable contribution. Our campaign this year will also raise needed dollars for the Student Life Fund, which can help students take part in organizations such as Phi Theta Kappa (PTK), an international honor society for community college students. These organizations build on the educational - and life - experiences of Rio's students.
"For me, PTK has been an extended family, especially when I don't have a lot of family members around me supporting me," said Rio alum and PTK student member Carolyn Shack. "PTK gave me the reason and the motivation to keep going."
Melody Layne Miller Memorial Scholarship (4388-1)
Potential scholarship recipients would be those in our dual enrollment or educator prep programs.
Rio Salado College Student Life Fund (4237)
The purpose of this fund is to support student programs, including projects, activities, and marketing of
student organizations.
Your generosity provides remarkable opportunities for students who are working parents, first-
generation college students, veterans, and more, as well as the faculty and staff who work diligently to
make our campus exceptional.
How can I donate?
Online
Donors need to go to the page: https://www.mcccdf.org/be-a-student-hero/
Be sure to scroll down and designate Rio Salado College in your giving.
Pay by Check
Pay by check payable to Maricopa Community Colleges Foundation and write "Be a Student's Hero" and the College name on the memo line. Mail check to: 2419 W. 14th Street Tempe, AZ 85281
Thank you to all who contribute to this college fundraiser. Your generous donation will support student success at Rio Salado College.