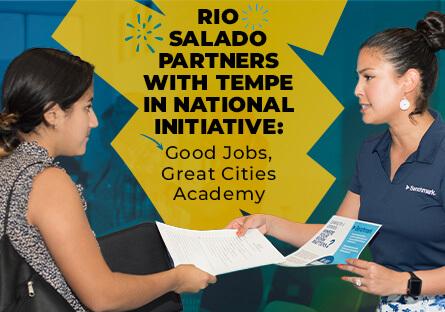 Rio Salado is proud to partner with the City of Tempe in the national initiative Good Jobs, Great Cities Academy, led by the National League of Cities and the Department of Labor. The City of Tempe was recently selected to take part in the program to build upon efforts to grow and empower the city's workforce.
"By bridging the gap between education and industry, we are poised to transform the future of our workforce," said Rio Salado President Kate Smith. "As part of this initiative, Rio will expand access to in-demand workforce credentialing in collaboration with industry-- to meet the needs of learners."
Other partners include Arizona State University, Tempe Union High School District, Arizona@Work Maricopa County and the Tempe Chamber of Commerce. Rio Salado and the Tempe Chamber recently launched the Tempe Workforce Skills Accelerator, designed to address workforce skills gaps in Tempe.
This recognition by the National League of Cities and the Department of Labor is a testament to our joint commitment to fostering innovation and empowering our community through educational opportunities.
Read more in Tempe's press release:
Tempe accelerates creation of new jobs through national partnerships
City selected for innovative workforce initiative through National League of Cities and Department of Labor 
Tempe, AZ - Tempe has been selected to join a new national peer-learning cohort to accelerate city efforts to design, develop and launch a workforce initiative that builds pathways into good jobs. 
The Good Jobs, Great Cities Academy, led by the National League of Cities and the Department of Labor, works with municipalities to spur innovative and scalable city-supported solutions that upskill and reskill workers into quality, high-demand jobs in infrastructure, clean energy and advanced manufacturing. These vital jobs are made possible by investments from the Bipartisan Infrastructure Law (BIL), the CHIPS and Science Act, and the Inflation Reduction Act (IRA). 
"The City of Tempe is deeply invested in improving economic opportunity for its residents and has a proven history of successfully convening cross-sector partnerships to cultivate workforce and economic development initiatives," said Mayor Corey Woods. "Through participation in the National League of Cities Good Jobs, Great Cities Academy, Tempe will accelerate its work with partners and industry leaders to ensure underserved and underrepresented workers can access equitable and meaningful postsecondary and workforce development opportunities that lead to good jobs."
Tempe's Office of Education, Career and Family Services will lead the city's efforts, in collaboration with the Mayor's Office and the city's Economic Development Department and Sustainability and Resilience Office.
External partners include the Tempe Chamber of Commerce, Arizona State University, Rio Salado Community College, Tempe Union High School District and Arizona@Work Maricopa County. During the Academy, the city will identify industry partners.
Tempe will take a broad approach to assessing workforce needs, developing a comprehensive plan and creating a pathway to new jobs. Plans include:
Meeting with industry leaders to assess their workforce needs and inform program design. The team will also meet with youth and adults from underserved populations, such as workers of color, veterans and justice-involved individuals, to ensure the program meets their needs. 

Collaborating with education and training partners to further expand established innovation hubs to create a job training center for advanced manufacturing, with on-site and virtual learning. 

Building pathways to pre-apprenticeship and new apprenticeship programs in collaboration with our workforce development partners.

Increasing the number of advanced manufacturing businesses participating in the city's Career Ready Tempe youth workforce program to provide more experiential and project- based learning opportunities for underserved high school students. 

Working with employers in the industry to advocate for second chances for those with justice involvement and make connections to the city's Veteran's Coordinator for employee referrals. 

Actively seeking referrals from city programs such as Community Supervision and Tempe Works that are currently serving target populations.  
"Tempe looks to increase economic mobility for underserved and underrepresented residents by enhancing education and workforce development in order to provide good-paying jobs that will allow residents to thrive," said Naomi Farrell, director of the city's Office of Education, Career and Family Services. "Tempe and our partners will build upon several key programs such as Career Ready Tempe, Tempe Workforce Development, the Tempe Workforce Skills Accelerator and apprenticeship programs in order to expand the city's success in this effort."
Tempe is joined by 15 other cities in the Good Jobs, Great Cities Academy. The program will run through 2024. See the list of other participating cities and learn more about the initiative here.
Media contact: Susie Steckner, susie_steckner@tempe.gov or 480-734-5186.