Tuesday, February 7, 2023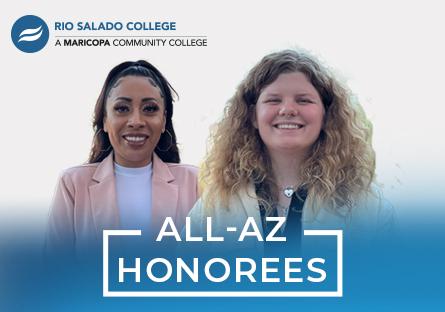 Rio Salado students Emma Harlow and Martha Salter are the college's representatives to the 2023 All-Arizona Academic Team and will join honorees at a recognition ceremony on Wednesday, Feb. 22, 2023.
The ceremony takes place at noon at the Doubletree by Hilton Hotel Phoenix in Tempe and is coordinated by the Arizona Board of Regents and Phi Theta Kappa (PTK), the international honor society of two-year college students.  
The All-Arizona Academic Team is part of the All-USA Scholarship competition sponsored by PTK. Students selected to the team receive undergraduate tuition transfer scholarships toward pursuing their first bachelor's degree at an Arizona university.
To be eligible, students must have a GPA of 3.50 or higher (4.0 scale), be in good academic standing and demonstrate leadership skills and involvement in campus or community volunteerism.
Emma Harlow
Former Rio Salado Student Senator Emma Harlow recently completed her associate degree in political science and transferred to Arizona State in January to start her path toward a bachelor's degree in the same area. 
During her time at Rio, Harlow also worked as a financial aid representative at a conservatory and volunteered with the American Civil Liberties Union. In her role as student senator and a member of the college's PTK chapter, Harlow participated in various Rio and Maricopa County Community College District activities, bringing the student voice to leadership and sharing her educational journey with other students. She finished her time at Rio with a 3.6 GPA.
Harlow hopes to find a career in a grass-roots organization that works to address civil rights issues and continue what she has learned through volunteer work with various community organizations.
"Volunteering in my community has been able to not only guide me but teach me a great deal in my life," she wrote in her application. "Through the leaders in those organizations I have participated in, it has shown me how to communicate with my peers, be present for the cause, and to listen to those you are serving."
Martha Salter
Martha Salter recently completed her associate degree in business. She transferred her credits to Arizona State University to begin classes this spring for her bachelor's degree in business administration.
In addition to school, Salter works in the Veterans Services Department at Mesa Community College and cares for her 5-year-old daughter and disabled veteran husband, all while maintaining a 3.89 GPA.
"I was absolutely in shock that I was selected to the All-Arizona Academic Team," Salter said. "This award is life changing. Not many people have the opportunity to continue their education, so I want to take full advantage of this award and show that I was worth taking a chance on."
Salter hopes to one day work at the state or federal level to make changes that help make communities better, and to own her own business.