Monday, February 13, 2023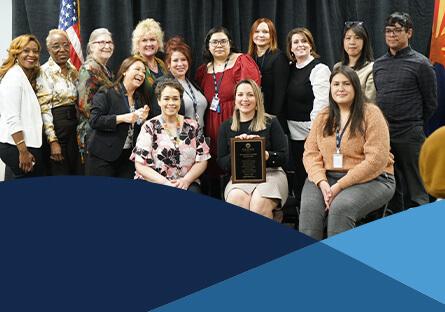 By Mira Radovich, Senior Contributing Writer
​
Rio Salado College's downtown Phoenix location held an event recently to celebrate 10 years of offering adult education and student services to the community.
While the college has served students in the downtown area since 1980, the location at 7th Avenue and Fillmore Street has transformed into a local education hub.
"According to our research, Rio Salado and the Maricopa Community Colleges have had ownership in this property for more than 32 years," Kate Smith, President of Rio Salado College, said during the celebration on Feb. 9.  "It finally became a permanent learning center for our college in 2012 after a complete renovation— and the hard work of community development employees have made it thrive and flourish."
RSC Downtown hosts in person classes for English language learners and GED Test Prep students who want to earn their high school equivalency (HSE) diploma. Classes are offered both day and night to accommodate working adults.
In addition, students have access to career training opportunities and high school equivalency pathways including the Adults Achieving a College Education (Adult ACE) program.
HSE graduate Ellie Sarabia reflected on her time as a student at RSC Downtown.
"My journey at Rio Salado Downtown started in May of 2022," Sarabia said. "I dropped out of high school after my freshman year and had no interest in ever going back. However, the mix of opportunities Rio Downtown offered, and the support of lead instructor Danna Farney all came together to help me get to the finish line and ultimately graduate in three months."
Sarabia's journey with RSC Downtown is continuing. She joined the location's operational staff in September 2022, and recently began classes for the Adult ACE program.
"I am hoping to someday become a special education teacher and eventually transition into teaching adult education," Sarabia said. "Everyone I have experienced here has truly changed my life and I am so honored to be a part of the team."
Since its grand opening in 2012, RSC Downtown has achieved several milestones:
3,400+ High School Diploma/English language students served 

1,877 students served annually by the location's Testing Center

Chicanos Por La Causa Workforce Solutions opened in 2016 to promote educational and employment opportunities and support students seeking gainful employment
RSC Downtown forged partnerships with several organizations for its program pathways the past decade, including the Arizona Department of Education, ARIZONA@WORK, the Department of Economic Security, Chicanos Por La Causa, Opportunities for Youth, Dress for Success and Year Up, and several of the Maricopa Community Colleges.
Through career training pathways at RSC Downtown, students can earn industry-recognized credentials and training in Applied Technology, nanotechnology, business, management and entrepreneurialism, computer and information technology and medical administrative assisting.
Rio Salado College Downtown is located at 619 N. 7th Ave., Phoenix, AZ 85007.