Tuesday, January 10, 2023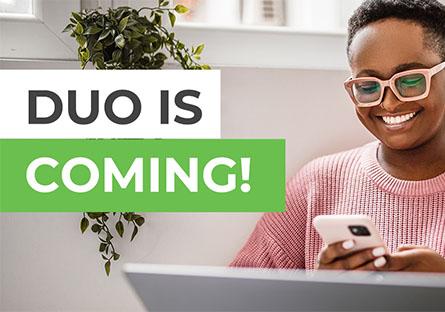 Beginning February 28, 2023, all students at the Maricopa Community Colleges will be required to use Duo two-factor authentication when accessing password-protected websites, such as Canvas, Google Suite, and the Student Information System (SIS) Student Center.
What is Duo?
Duo is Maricopa Community Colleges' two-factor identity and access management service.
Why Use Two-factor Authentication?
Two-factor authentication requires two forms of identification to access resources and data. It is an important security measure that can help protect your online accounts from being accessed by unauthorized users. 
It also provides an extra layer of security to protect the Maricopa Community Colleges against hackers, cyber threats, and any unauthorized access to sensitive data. 
Getting Started
Students can get a head start and sign up for Duo two-factor authentication today.
However, students will not receive Duo push notifications until February 28, 2023, when two-factor authentication will be a required step in order to access Maricopa systems.
For more information about Duo, including how to enroll videos, common issues and other resources, visit https://www.maricopa.edu/students/technical-support/duo.