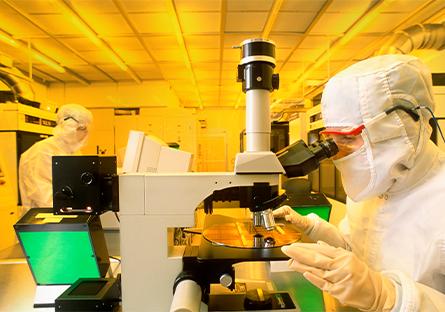 Rio Salado Ready to Launch New Certificate Training Cohort
Rio Salado College debuted a new idea this past spring that connects Valley veterans with the thriving semiconductor business that began in Phoenix in 1949. This fall, veterans will have another opportunity to take part.  
In partnership with Penn State and ASU, the Microelectronics and Nanomanufacturing Certificate Program brought an opportunity to 12 veterans who wanted to break into the industry or further their military experience with hands-on labs, live online lectures, and academic support to all participants.  
New classes begin next month! This FREE opportunity requires a commitment from August 28 through November 17. Online lectures will be held 8 a.m. to 11 a.m. and students will take part in hands-on labs every Tuesday and Thursday at ASU. In addition, throughout the 12 weeks, participants will be given facetime meetings with industry partners who will assist with resumes, interviews and job opportunities upon completion.     
Matt Feyereisen was one of the students. A Navy veteran, Feyereisen worked in graphic design after leaving the service in 1999. In Fall 2022, he decided to look for something different.
"I like science and technology," he said. "This is something new I wanted to do and hopefully it's a good future because I can't see the world without microelectronics."
Feyereisen was hired after completing the program and now works in the field.
At the end of 12 weeks, each participant will be ready to apply to an entry-level position in the industry. Phoenix has at least three of the top companies in the semi industry waiting for graduates to join them for successful careers in the world of Nanotechnology and Semiconductors.
All qualifying military veterans are invited to apply: https://www.cneu.psu.edu/military-ed/.