Thursday, January 12, 2023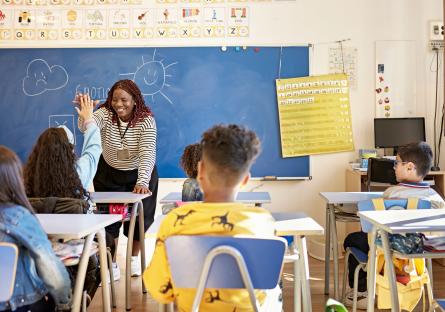 Arizona is facing a teacher shortage. For several years now the state has contended with thousands of vacant positions for teaching jobs. Last year, then Gov. Doug Ducey signed into law SB 1159 to address this pressing need for more educators. The bill received a lot of attention, with news outlets (both local and national) reporting that SB 1159 made it so teachers no longer need a bachelor's degree to teach in Arizona. 
Do I Really Need A Bachelor's Degree To Become A Teacher?
While the passing of SB 1159 changed the pathway toward becoming a teacher in Arizona, it isn't as radical a change as many headlines have made it out to be. You STILL need to have a bachelor's degree to become a teacher! As it stands right now, you cannot have a viable career as a certified teacher without a four-year degree.
What SB 1159 did was make it so school districts or charter schools can enroll teaching student candidates who do not have their bachelor's degree (yet) into their class-room based preparation programs. There are a few requirements that need to be met in order to qualify for these educator preparation programs:
The candidate must be enrolled in a bachelor's degree program at an accredited college or university

The candidate "is not a contracted or permanent full-time teacher or the teacher of record for any classroom of students"

The candidate "does not regularly instruct students without the presence of a full-time teacher, certificated teacher, instructional coach, or instructional mentor unless the candidate possesses other means of certification, including an emergency substitute certificate, or emergency teacher certification"
What this means is that a prospective teacher can start training to become a teacher so long as they're in college and actively working to finish a degree. Teacher candidates in these programs will be supervised by a full-time educator while they're in the classroom with students. It's important to note that you cannot be fully certified in Arizona as a teacher until you earn your bachelor's degree. While these preparation programs can provide invaluable on-the-job training and experiential knowledge, they are not a substitute for a four-year degree.
Getting Your Certification
In order to get certified as a teacher in Arizona, you'll need to select an area of certification to pursue:
Early Childhood Birth-Grade 3 

Elementary K-8 

Secondary (General) 

Secondary Business Programs 

Secondary English 

Secondary Foreign Language 

Secondary Math 

Secondary Science 

Secondary Social Studies 

Special Education 

Art P-12 

Physical Education P-12 
You may need to choose from one of several pathway programs to receive your certification. These pathways include:
Traditional Bachelor's Degree Educator Preparation Program

: a pathway for college students to complete a 12-week student teaching program before earning their bachelor's degree.

Traditional or Alternative Post-Baccalaureate Educator Preparation Program

: a pathway for students who have a bachelor's degree and want to further their education by completing a post-baccalaureate certificate program. These programs often include a capstone teaching project that can lead to certification upon completion.

Classroom Based Preparation Program:

a state-approved pathway for a specific preK-12 institution to provide its own preparation program.
Once you complete your preparation program, you'll have to pass all Arizona Educator Proficiency Assessment (AEPA) exams that are relevant for your chosen certificate. You'll receive an Institutional Recommendation if you complete a Traditional or Alternative program at a state-approved program, which you'll submit as part of your application to receive your certification. 
A few other things you'll need to submit to receive your certification:
 
Official transcripts (only needed if you don't have an Institutional Recommendation)

A valid Arizona Department of Public Safety

fingerprint card

Application fee ($60, non-refundable).
Learn More About Teaching In Arizona
Want to find out more about your best route to certification in Arizona?  Want to find out what  Rio Salado's educator preparation program offers? Fill out this form or give us a call at (480) 517-8580 to learn more about how we can help you become a teacher.
Did you know HLC approved Rio Salado's request to offer a bachelor's in elementary education/special education beginning in Fall 2023? Learn more online: https://www.riosalado.edu/degrees-certificates/education/elementary-education-and-special-education-9301-ba
Article by Austin Brietta