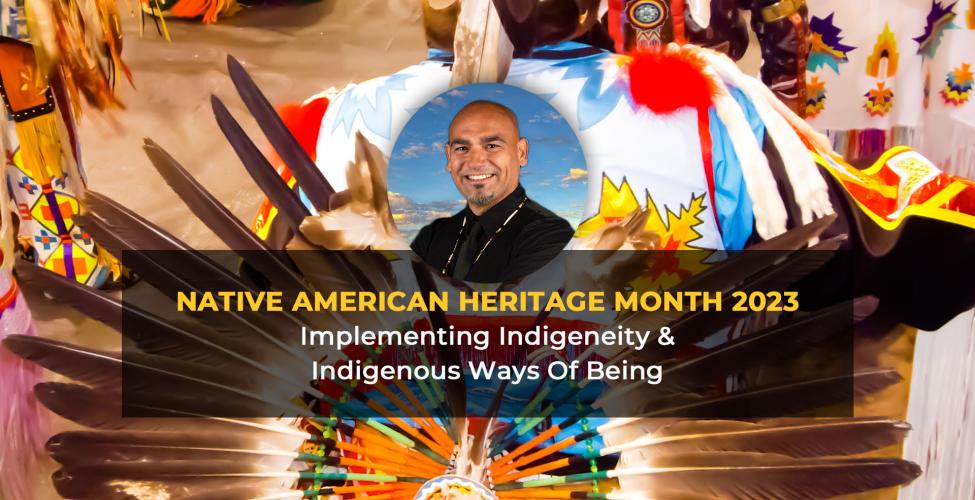 Join us on noon to 1:30 p.m. Nov. 29 for a special Native American Heritage Month event. Keynote speaker Rowdy Duncan explores "Implementing Indigeneity & Indigenous Ways Of Being." Duncan, communications faculty at Phoenix College, brings more than a decade of experience in the field of diversity and inclusion.
He will take part in a dialogue led by 2023-24 Rio Salado Student Senator Beka Namachanja and 2020-2021 Rio Salado Student Senator and alumni Cordero Holmes. The event will close with a short address by Rio student Sonja Tom.
Tune in virtually on our YouTube Channel! 
Want to learn more? Read the RioNews blog to learn about the history of the celebration and the Rio Salado Library Guide. 
About Rowdy Duncan: 
Currently in service as Residential Faculty at Phoenix College – Rowdy's main courses are COM110 Interpersonal Communication and COM263 Intercultural Communication. Rowdy has been in the JEDI field since 2001. He is an expert at non-hierarchical leadership and an innovator with a variety of workshops informing about issues related to colorblindness, Interest Based Negotiations, Nonviolent Communication and Conflict Resolution, Positive Masculinity, and seeing people as Possibilities. He is an engaging and passionate presenter and facilitator and is an active member of the Healing Racism Public Dialogue Series, winner of the 2008 National League of Cities Promoting Inclusive Award. Rowdy is a facilitator for Maricopa Community College's 7 Habits of Highly Effective People. He co-wrote the proposal for Paradise Valley Community College's Leadership Certificate. He was a 2014 winner of the Arizona Diversity Alliance's Diversity Champion Award and the John and Suanne Rouche Award for Excellence for the Community College from the League of Innovation in 2015. He also holds a certificate in Ketamine Assisted Integration Coaching from the Trauma Transformation Network, obtained in 2023.
We're committed to ensuring everyone can participate fully in our events. If you require accommodations, please contact Disability.Services@riosalado.edu.