Tuesday, November 2, 2021
Notice
This article appears for archival purposes. Any events, programs and/or initiatives mentioned may no longer be applicable.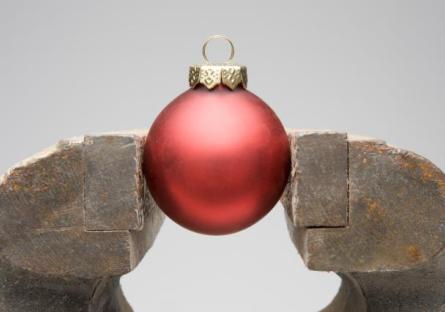 How to Cope with Holiday Stress
For many students, spending time with family during the holidays wasn't an option the past two years due to the pandemic. Hopefully this year will bring back old traditions and more family time as we move toward recovery. 
As the holiday season approaches, it's important to remember these helpful strategies from years past to manage your stress and expectations to stay happy and healthy!
Hometown visits, elaborate meals, colorfully wrapped packages and cards with handwritten holiday wishes are all important traditions, but the mechanics of the holiday experience can cause any light-hearted merrymaker to feel a little stressed out.
According to Melanie Abts, Counseling Faculty Chair at Rio Salado College, most holiday stress is predictable, so the best strategy is simply to plan for it.
"Being prepared for uncomfortable situations allows us to identify circumstances that are beyond our control and keep things in perspective," Abts said.
For example, whether flying or driving, holiday travel is ugly. It just is. Winter weather can cause canceled flights or poor driving conditions, children are wound up and can't be still, security is heightened, traffic is jammed, and there are any number of hiccups that can happen along the way. 
Plus now you add the discomfort many feel wearing a facemask for an extended amount of time required for air travel.
Abts suggests avoiding the chaos completely. 
"Fly on Christmas day if you can," Abts said. "The airports are completely empty, flight crews are cheerful, and you'll probably get your choice of seating."
"If that's not possible," she added, "just plan for the worst-case scenario. Give yourself plenty of time so that you don't feel rushed and make sure your carry-on can cover you for a day or two in case your luggage gets lost. Bring a set of earplugs or a music player, lots of snacks and you'll be set."
Of course, hometown visits aren't always the most joyous occasions either. A critical parent, sibling rivalries or even running into an ex can be troublesome.
"If you know you're going to a family dinner and you know a particular person will bring up something you did last year, or that you're not a good enough parent or that you're too thin or too fat or ask, 'Why aren't you married yet?' you can plan your response ahead of time," Abts said. "You can't change other people. You can only change yourself and your reactions."
Resources like money and time are also in short supply during the holidays. Running low on either can cause tension. it's important to prioritize to avoid feeling overwhelmed.
"Sometimes we just take on too much," Abts said. "Especially Rio Salado students who may not even be on a break. We have start dates as late as mid-December, and the holiday season can be a high-need time for those students."
Abts recommends the stress management workshop available on the Rio Salado College Counseling website for students, or anyone else who is feeling distressed during the holidays.
"Distress is different," Abts explains. "Distress comes from the game-changers like death, divorce, or even learning that you have a baby coming. Even if it's a positive event, if you're already stressed, you might be at your breaking point. It's important to realize that yes, you are in a crisis, but you can get through it."
According to Abts, although some people take comfort in holiday traditions, abandoning high maintenance rituals during times of distress might be helpful.
"It's important during these times to identify what's important to you and cut out absolutely everything else. How important are all of the rituals?" Abts said. "If you're already at the breaking point, don't expect yourself to bake seven cakes or to plan a charity event. It'll be ok. If you don't do those things, the next day will still happen."
Rio Salado's Counseling and Career Services department can be found online or by calling  (480) 517-5785. Students can also request an appointment through email.