Tuesday, November 16, 2021
Notice
This article appears for archival purposes. Any events, programs and/or initiatives mentioned may no longer be applicable.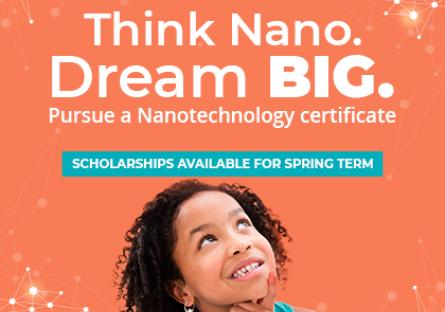 Scholarships Available to Help Launch Nanotechnology Careers
Think small. Dream big. Nanotechnology is where science, engineering and technology meet. You may not even realize that nanotechnology is a part of daily life.
"Nanotechnology embodies everything that has to do with engineering, chemistry, biology and science, and then puts them together with technology to form something that's new and different," said Dr. Rick Vaughn, Rio Salado College Faculty Chair for STEM initiatives.
Rio Salado is offering five $780 scholarships that will cover half the cost of the 6-course nanotechnology certificate program.
According to the National Nanotechnology Initiative, nanotechnology touches many of us through a variety of consumer products such as eyeglasses, computer screens, cosmetics, clothes, digital storage, tires, paint, lasers and airplane coatings.
Rio Salado recently received a $300,000 grant from the National Science Foundation to train 30 students and help increase the employee pool for the nanotechnology industry.
"Maricopa County has become a tech hub for many international companies with hiring needs for micro- and nano-technicians," Vaughn said. "Rio Salado is excited to expand our capacity to train a new generation of diverse workforce for the expanding semiconductor and photonics industries across the Valley."
Students in Rio Salado College's Nanotechnology program enjoy affordable tuition, a hybrid model of online courses coupled with in-person labs at Arizona State University, and dedicated support services aimed at student success.
Recent graduate Sam Vescio, who now works at Intel, said Rio Salado's nanotech program helped him on the path to career success.
"Honestly, picking Rio Salado was a no-brainer for me," Vescio said. "When I started working on my degree, I was working full-time and odd hours. There was no way I could reasonably attend college traditionally." 
With a projected 2 million entry-level positions in a variety of fields and specializations, nanotechnology is hiring! Nanotechnology and semiconductor technicians earn a national median salary of $40,500, according to the Bureau of Labor Statistics.
Apply for the Nanotechnology Scholarship TODAY
To be eligible to apply for the nanotechnology scholarship, students must:
Be newly enrolled in the Nanotechnology program for the Spring Semester 2022

Complete Maricopa Community College District application and apply to Rio Salado College

Complete the scholarship application, including 200- to 350-word responses to "Why do you need the scholarship?" and "Where and how do you see yourself using nanotechnology in your future career?" Submit application and responses to Rick Vaughn at rick.vaughn@riosalado.edu. 

Enroll in 9 credits (3 classes) for Spring Semester 2022.

Preference will be given to underrepresented/underserved populations.

Eligible to Maricopa Country and AZ residents ONLY. 
The deadline to apply is March 7, 2022.