Notice
This article appears for archival purposes. Any events, programs and/or initiatives mentioned may no longer be applicable.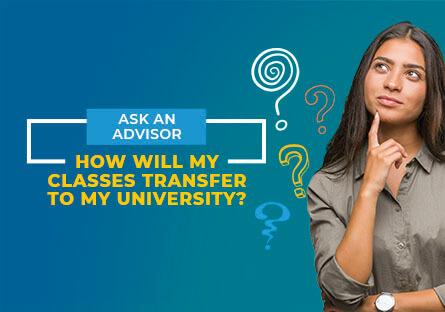 Ask an Advisor: How Will My Classes Transfer to the University?
How your Rio Salado College classes will transfer depends on your individual transfer goals, your major, and the university you plan to attend. Your Rio advisor will help you navigate the transfer process by exploring the different transfer pathways available.
Option 1: Transfer degree pathway
With option one, students can choose to transfer after completing one of our transfer degrees. This transfer pathway is recommended for students who want to maximize the number of classes they can take prior to university transfer. Students can think of a transfer degree as a transfer agreement that Rio has with our educational partners. 
Transfer agreements provide students with a prescribed outline of coursework that has been pre-approved by that educational partner. Students following a transfer agreement can rest assured that all of their credits will transfer when they're ready to move on to the university. 
This pathway is one of the most seamless ways to transfer. However, not all transfer agreements are the same. Your academic advisor can help you explore and select the transfer degree that works best for you and your transfer goals. 
Option 2: Transferring with a few classes
Students who want to take a few classes at Rio, but do not necessarily want to complete a transfer degree can still transfer credits seamlessly as long as they collaborate with their community college and prospective university advisors. The key to success is confirming that classes will transfer to your intended university prior to actually taking the courses. To ensure transferability of Rio credits, students should meet with a university advisor first. 
This is imperative because the university advisor can review your bachelor's degree requirements and help identify courses you can take at Rio that will satisfy those requirements. After, you can connect with your Rio advisor to assist with adding those courses. 
Students interested in completing their university's general education requirements should consider pursuing the Arizona General Education Curriculum (AGEC) certificate. The AGEC is approximately 35 credits, and similar to transfer degrees, they are designed to transfer as a block to satisfy the lower division general studies requirements at any of the three Arizona public universities. For students transferring to non-Arizona public universities, make sure to connect with your prospective university's advisor to discuss the transferability of the AGEC.
Ready to go?
Finally, students planning to transfer to a university should check out Rio Salado's Transfer Hub webpage. The page provides students with a wealth of important transfer information in one convenient online location. You will find transfer tips, steps on how to transfer, information on our educational partners, and so much more. No matter where you are in the transfer process, the transfer hub and your academic advisors are available to support you along the way.
Perla Petry-Rovinsky is a Lead Advisor for our Behavioral Science and Human Services Field of Interest. Perla can be reached at perla.petry-rovinsky@riosalado.edu.