Thursday, November 10, 2022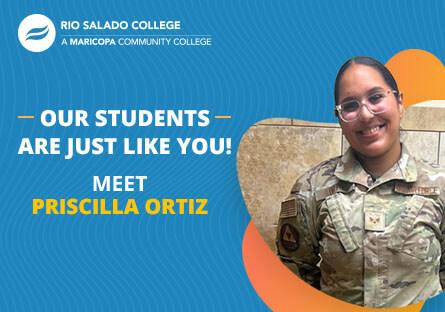 The appearance of U.S. Department of Defense (DoD) visual information does not imply or constitute DoD endorsement.
By Mira Radovich, Senior Contributing Writer
As an aerospace ground equipment maintainer based at Luke Air Force Base in Glendale, Senior Airman Priscilla Ortiz plays a vital role in flight missions. 
Her team is responsible for maintaining and repairing support equipment on planes to ensure they are flight ready.
When it came time to select a college for her associate degree, Ortiz used the same attention to detail and thoroughness. 
"Originally, I chose Rio Salado College because it offered flexible start dates," Ortiz said. "The calendar was crucial for me. I knew Rio would allow me to speed up or slow down my classes to fit my current life."
Ortiz said that online classes fit perfectly into her busy work schedule.
"Taking online classes allows me to have a flexible schedule balancing school and work," she said. "My morning is taken up by my job Monday through Friday. I usually set aside 6-9 hours during the week and 4-5 hours on the weekends for schoolwork and studying."
In addition to dedicated study time, Ortiz says motivation is a key to success when taking online classes.
"The most difficult part is being disciplined enough to stay on top of the course load," Ortiz said. "I would advise taking advantage of the accelerated class option. Focus on one or two subjects at a time rather than 4-5 at once."
She also recommends keeping up with activities that make you happy.
"Try your hardest in class, but still do what makes you happy outside," Ortiz said. "Balance is key. I usually get home around 4:30 pm and dedicate a few hours to loving and socializing with my dog, Mocha. She is such a loving dog who allows me to vent and distress after long days."
Ortiz is currently pursuing an associate in science degree with an emphasis in biological sciences at Rio Salado, and plans on transferring her credits to a university to further her education.
"I chose this degree because it allows me to expand my education beyond a bachelor's degree," Ortiz said. "I have a few career choices in mind that all require a Ph.D. or M.D. With this in mind, a degree in biological science covers the requirements I would need to get accepted into any of these programs."
Ultimately, Ortiz hopes to pursue a career in psychiatry.
"I have always had a love for both neuroscience and psychology," Ortiz said. "I would love to work in psychiatry getting to understand and devote my life to preventing and treating mental disorders." 
In fact, one of her Rio Salado classes helped cement her future career choice.
"Hands down, the most inspiring class I have taken is Cultural Diversity in Education," Ortiz said. "It opened an entirely new perspective of the education system and strengthened my desire to be involved in psychiatry and education in the future."
For now, Ortiz is concentrating on completing her degree, and is happy to recommend Rio Salado to other members of the military community.
"Sometimes it can be confusing dealing with education benefits in the military, but I have found Rio to be extremely knowledgeable and helpful in the process," Ortiz said. "I would recommend Rio because they offer flexible start dates, affordable tuition and are knowledgeable in working with military benefits."  
Rio Salado College proudly serves members of the military and their families through our Military and Veterans Services department. Contact us for assistance today!
RELATED LINKS