Notice
This article appears for archival purposes. Any events, programs and/or initiatives mentioned may no longer be applicable.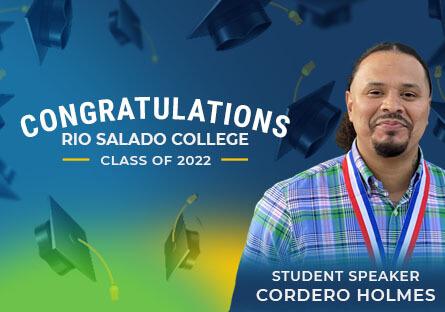 Class of 2022 Student Commencement Speaker Cordero Holmes Shares His Dedication
At Rio Salado College, so many of our students have inspiring stories to share. This year's 2022 Class of 2022 Student Commencement Speaker Cordero Holmes is no exception—his life proves F. Scott Fitzgerald was wrong when he wrote "there are no second acts in American life."
A devoted father, husband, and full-time employee, Holmes got his start taking classes while he was incarcerated.
"I never thought that college was a place for me," Holmes wrote in "A Second Chance at Education," an essay published last fall by Higher Learning Advocates. "Instead, as a teen, I envisioned myself selling drugs, robbing people, and spending most of my days in prison." As an adult, Holmes walks a very different path now. The man who never thought college was a place for him is now such a diligent student that he was recognized this year as a 2022 All-Arizona Academic Scholar and also was a recipient for the Coca-Cola Academic Team Scholarship.
When asked about the message he plans to share at this year's commencement, Holmes said he's a firm believer in the power of education to lift people up from all walks of life. "College is for everybody," Holmes said. Holmes said he's drawing inspiration from the late rapper Nipsey Hussle ⁠— who was known for his tireless community activism⁠ — and his song "Dedication." 
"Know he a genius, he just can't claim it/Cause they left him no platforms to explain it/He frustrated so he get faded," Holmes raps, quoting part of a verse from "Dedication" verbatim.
Hussle's message about how a lack of access to platforms can drive the disadvantaged into self-destructive life choices struck a chord for Holmes. "That stuff resonated with me when I heard it so much. That's why I'm thankful for Rio for being that platform to allow me to explain what I've been through, what I'm going through, and how I no longer have to be frustrated and resort to alcoholism or drugs or many of the other things that the world goes through. Rio has allowed me to communicate that."
For Holmes, education isn't just about lifting up individuals. "With college comes a responsibility, a responsibility to be of service to the whole because we all affect one another. Don't shy away from it. Embrace it because it's not only going to lead to a better you, it can make the community better, which as a result will make the world better. And I think that's definitely what the world needs right now."