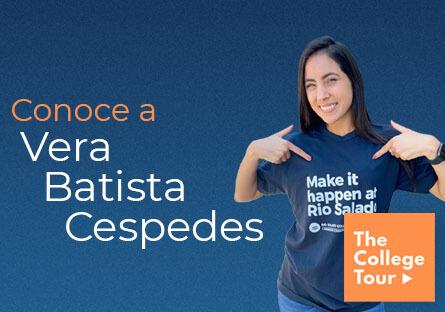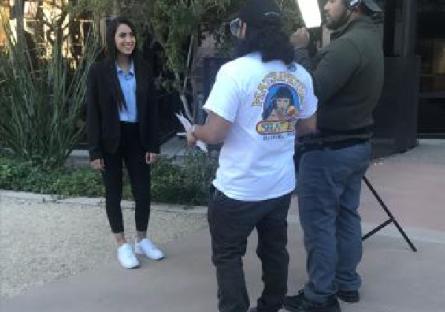 By Mira Radovich, Senior Contributing Writer
Vera Batista Cespedes studied radiology in her native Cuba and worked her way up to become an X-ray technician. When she came to the United States, she decided to supplement her knowledge in the field.
Batista Cespedes enrolled in Rio Salado College's Medical Administrative Assisting (MAA) partnership program with Phoenix College.
"I enrolled in the MAA program because I think it is a great opportunity and I am passionate about medicine," Batista Cespedes said.
Batista Cespedes received tuition support from the Soroptimist International for the first six credits in her program. 
"I am immensely grateful for the help I have received from Soroptimist International," Batista Cespedes said. "Without their help this would not have been possible. They have supported me greatly to achieve my goal."
Batista Cespedes also enrolled in English classes at Rio Salado to improve her skills in English reading, writing, and speaking.
"I like everything about my classes," Batista Cespedes said. "Rio Salado College has a very good teaching program and incredible tutors. All of the content I've studied so far is interesting and necessary for medical practice."
Batista Cespedes completed the MAA program in March and plans to continue her educational journey into the world of medicine. "I am interested in continuing my studies in the field of radiology and orthopedics," she said.
In the spring, the Amazon Prime web TV series College Tour came to Arizona to feature the 10 colleges of the Maricopa County Community College District. Batista Cespedes was one of four Rio Salado students who shared their stories.
Watch the College Tour now to hear from Batista Cespedes and the other students who chose to pursue their education at Rio Salado College. You can view all the Spanish and English videos online today.
About the College Tour
The College Tour is a web TV series from Amazon Prime that helps students and families visit colleges across the country — from the comfort of their homes. Each episode tells the story of a single college through the lens of its students, faculty and alumni. The series debuted on Amazon Prime in 2021. Season Five features all ten of the colleges that make up the Maricopa County Community College District. This is the first time the College Tour will focus on community colleges.
---
Programa Universitario Ayuda a Graduados a Obtener Nuevas Opciones Profesionales
Por Mira Radovich, Escritora Colaboradora Senior
Vera Batista Cespedes estudió radiología en su Cuba natal y se abrió camino hasta convertirse en técnica de rayos X. Cuando llegó a los Estados Unidos, decidió complementar sus conocimientos en el campo.
Batista Cespedes ingresó a la carrera de Asistencia en Administración Médica (MAA, por sus siglas en inglés) de Rio Salado College, programa en asociación con Phoenix College.
"Me inscribí en el programa MAA porque creo que es una gran oportunidad y me apasiona la medicina", dijo Batista Cespedes.
Batista Cespedes recibió apoyo de matrícula de Soroptimist International para los primeros seis créditos de su programa.
"Estoy inmensamente agradecida por la ayuda que he recibido de Soroptimist International", dijo Batista Cespedes. "Sin su ayuda esto no hubiera sido posible. Me han apoyado mucho para lograr mi objetivo".
Batista Cespedes también se inscribió a clases de inglés en Rio Salado para mejorar sus habilidades de lectura, escritura y habla en inglés.
"Me gusta todo de mis clases", dijo Batista Cespedes. "Rio Salado College tiene un programa de enseñanza muy bueno y tutores increíbles. Todo el contenido que he estudiado hasta ahora es interesante y necesario para la práctica médica".
Batista Cespedes completó el programa MAA en marzo y planea continuar su viaje educativo hacia el mundo de la medicina. "Estoy interesada en continuar mis estudios en el campo de la radiología y la ortopedia", dijo.
En la primavera, la serie de televisión web The College Tour de Amazon Prime llegó a Arizona para presentar las 10 universidades del Distrito de Colegios Comunitarios del Condado de Maricopa. Batista Cespedes fue una de los cuatro estudiantes de Rio Salado que compartieron sus historias.
Mire The College Tour ahora para escuchar a Batista Cespedes y los otros estudiantes que eligieron continuar su educación en Rio Salado College. Puede ver todos los videos en español e inglés en línea hoy.
Sobre The College Tour
The College Tour es una serie de televisión web de Amazon Prime que ayuda a los estudiantes y sus familias a visitar universidades de todo el país, desde la comodidad de sus hogares. Cada episodio cuenta la historia de una sola universidad a través de la lente de sus estudiantes, profesores y exalumnos. La serie se estrenó en Amazon Prime en 2021. La quinta temporada presenta las diez universidades que conforman el distrito de universidades comunitarias del condado de Maricopa. Esta es la primera vez que The College Tour se centrará en los colegios comunitarios.