Notice
This article appears for archival purposes. Any events, programs and/or initiatives mentioned may no longer be applicable.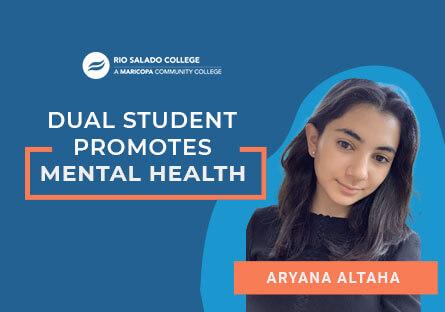 By Mira Radovich, Senior Contributing Writer
Aryana Altaha is many things: a sophomore at Paradise Valley High School, a dual enrollment student at Rio Salado College, a boxer, K-drama fan, and, like a typical teen, an avid social media user.
But unlike a typical teen, Altaha focuses her social media use on promoting mental health awareness.
"For most of my life I had diagnosed generalized anxiety disorder," Altaha said. "And for a couple of years, I had diagnosed depression. I struggled a lot with it. Recently I have been able to improve my mental health. That's what motivated me to spread awareness."
Tiktok.com/@askaryana
Altaha takes to TikTok to create videos that speak to mental health issues. And with 2.3 million likes and 25K+ followers, many of her videos are clearly hitting a mark.
"I think the videos resonate because they tell people they are not alone," Altaha said. "People who don't struggle with mental health issues don't know how hard it can be. A lot of people think if you have depression, you should just smile."
Her most popular TikToks discuss topics like narcissist personality disorder, borderline personality disorder, bipolar disorder, bulimia, symptoms of anxiety and signs of depression. 
Judging from the comments section in her videos, Altaha is succeeding at creating an online environment where people come together and share their firsthand experiences with mental health. 
Three sample comments:
"I thought I was the only one having this feeling of everything speeding up. I thought I was crazy..."
"I have anxiety. I was diagnosed a while ago, and I really think you are helping people understand disorders!"
"Wait, wait- you're telling me I'm not the only one that feels like that?!"
"A lot of people thank me and say that they feel less alone and are glad that what they are struggling with is being talked about more," Altaha said.
Altaha includes a disclaimer on her videos advising viewers to talk to a trusted authority if they are struggling with mental health issues, and not to diagnose themselves.
"When you self-diagnose, it can become a self-fulfilling prophecy," Altaha said. "You could convince your brain that you have a certain disorder when in reality you don't. That's why it's best to get professional advice."
Creating Content
When looking for ideas on what videos to create, Altaha uses several sources.
"There are so many TikTok trends, so if I can, I try and incorporate mental health with one of the trends," Altaha said. "When I first started on TikTok, my main goal was to talk about mental disorders. But I have expanded to include all mental health issues."
In addition to speaking from personal experience, Altaha conducts research on her topics and searches for reputable sources to cite.
"For a lot of the videos, I just mention what I experience," Altaha said. "But with other mental disorders, such as schizophrenia, I search online to find reputable sources like the CDC (Centers for Disease Control) or National Institute of Mental Health."
Altaha also seeks out professional experts for content. She recently interviewed Dr. Melanie Abts, faculty co-chair for counseling and personal development at Rio Salado.
TikTok Interviews featuring Dr. Melanie Abts
"Aryana is so professional and easy to work with," Abts said. "She is passionate about using her platform to educate others. She really wants to help those struggling with suicidal thoughts to know they are not alone and that there is hope ahead."
Self-Care and Mindset
One point driven home by Abts was the importance of self-care. Altaha looks to activities like exercise to help improve her mental health.
"I got into boxing because I used to have a lot of pent-up anger," Altaha said. "I used to bottle up my emotions. I found that boxing was a fun and healthy way to release my emotions and feelings while at the same time getting strong."
For now, Altaha is continuing to focus on her well-being and promoting mental health awareness.
"Business is a really big interest of mine, and my favorite classes are marketing, economics and psychology," Altaha said. "After high school, I want to go to one of the top 20 colleges and study real estate or business."
Related links
Mental Health Awareness Month Resources