Notice
This article appears for archival purposes. Any events, programs and/or initiatives mentioned may no longer be applicable.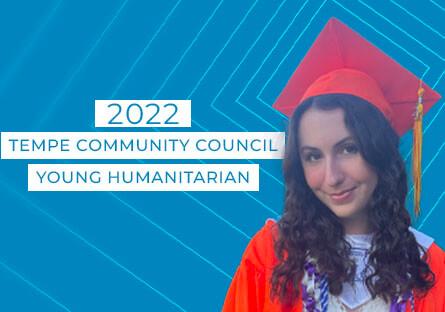 By Mira Radovich, Senior Contributing Writer
Addison Olson, a former Rio Salado College dual enrollment student, is the recipient of the 2022 Tempe Community Council Young Humanitarian Award.
The award, which will be presented at a ceremony on Oct. 12, 2022, recognizes a graduating high school senior who has demonstrated leadership and service to the community.
Born and raised in San Jose, Calif., Olson took a 2018 move to Tempe in stride. The high school student, who lost her mother and stepmother at a young age, relocated to Arizona with her single-parent dad and older sister.
"After our move to Arizona, we as a family decided to get involved with our community and explore different volunteer opportunities," Olson said. "This was a great way to meet new people and also give back."
Olson volunteered with the Miracle League of Arizona, an organization that helps individuals with special needs play baseball. 
"In the 2019-20 baseball season, I was awarded the Most Valuable Volunteer award after volunteering all 158 games," Olson said. 
In 2021 the Miracle League offered Olson her dream job – a program assistant position that allowed her to play baseball and work with kids.
She credits the Miracle League with inspiring her to volunteer for other organizations that focus on individuals with disabilities such as Best Buddies, Pawsitive Friendship, and Mikey's League. 
"Additionally, throughout high school I was involved in National Honors Society and Rho Kappa, which were both academic honors societies that focused on community service," Olson said.
It was in high school where she took advantage of dual enrollment classes through Rio Salado College. Dual enrollment allows students to earn college credit for high school classes.
"I absolutely loved the dual enrollment program," Olson said. "I was able to take courses that focused on my interests such as business, history, and humanities. Dual courses helped me prepare for college and even find what I'm passionate about."
Olson is currently enrolled at Arizona State University and is pursuing a degree in family and human development.
"Because of dual enrollment, I was able to transfer 40 credits," Olson said. "I'll be able to graduate in three years, which will reduce my total tuition amount a lot."
Thanks to her volunteer experience, Olson has solid life and career goals.
"I plan to continue to work at the Miracle League and volunteer at other local nonprofits that help the disabled community," Olson said. "I have a true passion for volunteering and feel incredibly honored to have been awarded the Young Humanitarian Award."
"The community that I've been welcomed into has inspired me to one day work in the nonprofit space," she said. "I've seen firsthand that being a kind friend, or just someone to talk to, can make a positive difference in someone's life."