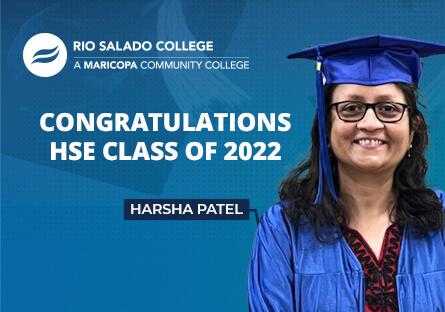 Meet Rio Salado College HSE Graduate Harsha Patel
Harsha Patel's Rio Salado journey began in 2017 when she began taking English Language Acquisition for Adults (ELAA) classes.
She transitioned into the HSE (High School Equivalency) program, and passed her final tests for the GED® in February.
"I want to be a role model for my children, as they both finished college programs," Patel said. "This affects my self-esteem in a positive way because I was able to pass the RLA (GED® language arts) test. I proved to myself that hard work and perseverance would pay off!"
Patel will take part in the upcoming High School Equivalency (HSE) graduation ceremony at 7 p.m. on Thursday, June 16, at North Phoenix Baptist Church, 5757 North Central Avenue, Phoenix. In partnership with the Arizona Department of Education, Rio Salado College (RSC) offers an adult education program for students, age 16 and over, seeking GED® test preparation, English language, and career training classes. 
Patel is already seeing her dedication pay off. In addition to earning her HSE diploma, Patel has passed the pharmacy technician exam and will be able to work in her dream job as a pharmacy technician at Walgreens.
"While on my American educational journey, I encountered many challenges," Patel said. "I was a non-native English speaker and a mother and wife. I fought cancer and had to take time away from pursuing my GED®, but I did not give up."
In her spare time, Patel enjoys singing and playing the keyboard, and, as a result, has traveled extensively and can speak several languages.
For more information about the 2022 HSE Graduation, please visit: Rio Salado College HSE Graduation
About Rio Salado's Adult Education program
The Arizona Department of Education named Rio Salado College (RSC) as the Arizona Adult Education Program of the Year for three years in a row, 2018, 2019, and 2020. 
Rio Salado College has offered adult education services to the community since 1978 and is the largest adult education provider in Arizona. RSC partners with ARIZONA@WORK, other Maricopa Community Colleges, community organizations, and employers to create pathways to college and careers for adult learners in Maricopa County.
For more information on GED®/HSE classes, visit Rio Salado's GED®test preparation page.