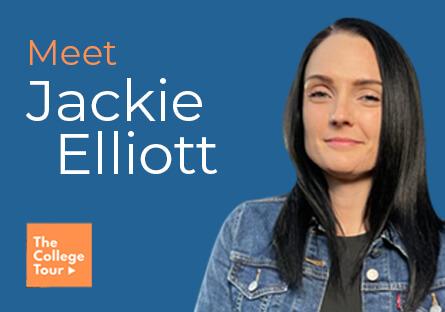 Recovery and Redemption: Busy Mom Nears Academic Finish Line
Some people like to share their story to help others; some like to share because it helps them remember what they've been through. For Rio Salado College student Jackie Elliott, her decision to appear on Amazon's The College Tour series was motivated by both impulses. "I wanted to do the College Tour to share my story," Elliott said. "I also wanted to do the show to have something to look back on." 
The College Tour, a TV series that tells the story of colleges and universities through the perspectives of their students, was the perfect venue for Jackie Elliott to share her inspiring story of recovery and redemption. Elliot was one of several students (including programming student Mahesh Poudel) who shared about their experiences attending Rio Salado College. Each College Tour student has an inspiring story to share; Elliott's story of survival and sobriety is no different.
Reflecting on the turbulent road she walked to get where she is today, Elliott is still amazed by how much her life has changed.
"As years passed the vision of me becoming a college graduate dissipated, creating a belief that I would never be able to receive a college degree," Elliott said. Now she's on track to earn multiple degrees, setting herself up for a new career in a field where she can help people who've experienced the suffering and hardships she has experienced first-hand.
A hard-working mother from Cave Creek, Elliott struggled with substance abuse after graduating high school. With the birth of her son, Elliott found the motivation to strive for sobriety and turn her life around. Going back to school after a long absence was daunting, but the flexibility of Rio's online classes gave her the space and control she needed to stay on top of her learning and her obligations as a mother and a full-time employee.
"I really thought I couldn't manage to get a degree at this age with so many things already on my plate, and now it seems like the two years have flown by," Elliott said.
Elliott enrolled in Rio's Addictions and Substance Use Disorders program, taking ASD classes to put her on the track toward becoming a counselor. "I firmly believe in paying it forward," Elliott said. She said she enjoyed her ASD courses and found them to be very interesting. 
"I could relate to a lot of the information in many different ways," Elliott said. "The classes made me see addiction from a professional standpoint."
A 4.0 student, Elliott is on the verge of finishing an associate's of applied science this summer and will have all her ASD courses completed by mid-August. "I plan to take my exam shortly after and apply for the LSAT (Licensed Substance Abuse Technician), beginning my journey into the counseling field." 
Elliott is planning on transferring to Ottawa University in 2023 after she completes her studies at Rio Salado. Her ambition is to obtain a bachelor's of science in addiction counseling and a master's in clinical counseling.
Looking back on her College Tour experience, Elliott said she was proud to represent Rio and offer hope to other people who are grappling with their own struggles in recovery.
"I am hoping my story can help other potential students feel inspired to do things they thought they couldn't," Elliott said. "I also enjoy seeing an individual come from being an addict living in a car to a 4.0 college student. Whether it be me or another addict, hearing the story of overcoming addiction can be very inspiring as many do not make it out alive."
Watch Jackie Elliott's story on The College Tour.
Article by Austin Brietta