Notice
This article appears for archival purposes. Any events, programs and/or initiatives mentioned may no longer be applicable.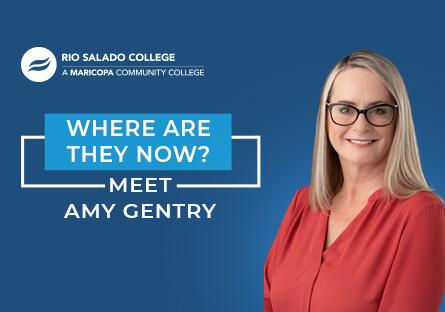 Where Are They Now Alumni Profile – Meet Amy Gentry
Workplace Education Energizes Rio Grad to Get Ahead
By Mira Radovich, Senior Contributing Writer
In 2015, Salt River Project (SRP) employee Amy Gentry earned her college degree in organizational management thanks to a workplace partnership with Rio Salado College.
Through customized educational partnerships, Rio Salado uses industry-specific training to create customized certificate and degree programs. The benefit is two-fold. Employees gain skills and knowledge to succeed in today's workplace, and employers retain a more qualified workforce.
"Through the SRP partnership, I already had some credits accumulated from training I completed at work," Gentry said. "This gave me a foundation to start from instead of beginning at ground zero."
Gentry found that online classes worked well with her busy schedule.
"Being a working adult with a family and other responsibilities can make finding time to get an education challenging," she said. "The Rio Salado online structure allowed me to fit my studies and assignments into my own schedule."
To help with maintaining a work/life balance and avoid becoming overwhelmed, Gentry pursued her education in manageable bites.
"For me personally, I needed to set short- and long-term goals," Gentry said. "My degree program at Rio had a certificate program embedded into it. I focused on meeting the requirements of the certificate program first."
Along the way, Gentry accumulated several tips that helped make the online learning experience successful.
"First, I advise folks who are just starting their journey to begin with a class you think you would enjoy," Gentry said. "This way you can find your groove while learning about something that interests you."
"Then, create a routine for yourself and stick to it," she said. "Establish a schedule where you have specific days and times that are dedicated to your school responsibilities."
Gentry also said it is important to reward yourself for your accomplishments.
"When I met a goal I established, I would reward myself with something small, like 30 minutes of TV or a snack I was craving," Gentry said. "Knowing I couldn't have those things until I met my goal worked for me."
Having met her goals, today Gentry is the manager of training development and customer interaction at SRP. She credits her Rio Salado education for paving the road to career promotion and continuing education.
"My degree from Rio Salado helped me gain foundational leadership knowledge," Gentry said. "Completing my associate degree motivated me to earn an undergraduate degree in computer information technology, which opened my career growth to many additional opportunities."
Gentry aspires to continue growing as a leader at SRP.
"I plan to continue in a leadership role where I can contribute to operational improvements while also inspiring my team to realize and achieve their own professional goals," she said.
For that, she is a staunch believer in Rio Salado College.
"Rio Salado has so many degree and certificate programs to choose from – there is truly something for everybody."