Notice
This article appears for archival purposes. Any events, programs and/or initiatives mentioned may no longer be applicable.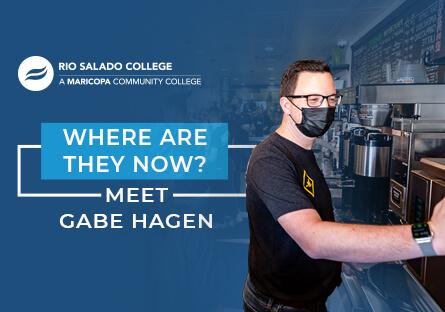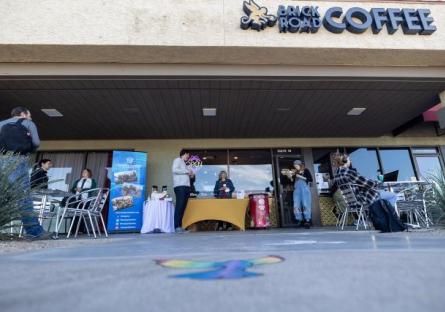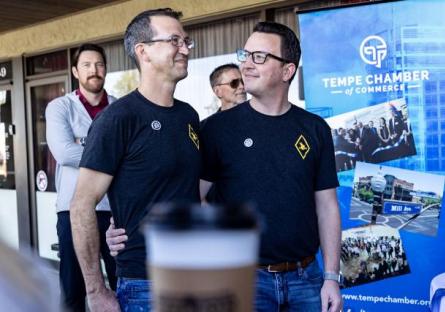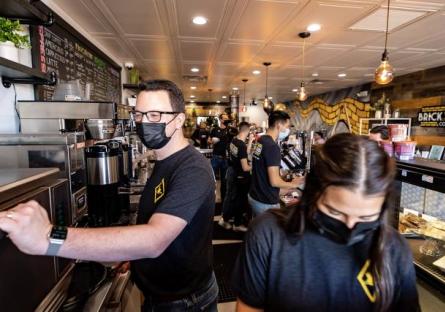 Where Are They Now Alumni Profile - Meet Gabe Hagen
Advocating for Coffee and the Community
By Mira Radovich, Senior Contributing Writer
Gabe Hagen already had college degrees and a career in finance when three things caused him to take stock of his life: a love for coffee, community, and his husband. 
Last year, the three passions converged, resulting in Tempe's newest java joint.
 "I alternated between coffee and finance all of my adult life," said Hagen, an Iowa native who moved to California after high school. "Steaming milk and pulling espresso got me to the West Coast and on my feet as a young man."
He entered the banking world and eventually relocated to Arizona, where he enrolled in online classes at Rio Salado College.
"I decided to go to Rio for a few reasons," Hagen said. "First, it was affordable. Second, I wanted to explore a legal career, and third, Rio offered a pathway to Arizona State University (ASU)."
Online classes allowed Hagen to go to school while working full-time.
"As a working student, attending a regular in-person class was difficult," Hagen said. "The flexibility offered by online learning was paramount to my success. It also allowed me the freedom to plan my classes around my job and family obligations."
Hagen found that staying organized was one of the keys to a successful online learning experience.
"Success comes from planning and staying organized," Hagen said. "At the beginning of each course, I would go through the syllabus and note all of the due dates in a calendar. I also looked at the required reading and the assignments to understand the actual time commitment required to succeed in each course."
In 2015, Hagen completed his associate degree in paralegal studies at Rio Salado and transferred to ASU to complete bachelor's degrees in political science and philosophy. 
During this time, the world of caffeine and java was never far away.
"I returned to work in the coffee industry to help pay for my undergrad, and then again during grad school," Hagen said. 
In 2020, Hagen earned a master's degree in regulatory compliance from the University of Southern California.  After, he and husband Jesse Shank contemplated their future path.
"The global pandemic caused us to reassess our goals," Hagen said. "Dreams that had been tucked into the 'maybe when we retire' file started to make more sense in the here and now."
Bringing his talents and focus back to coffee, Hagen and Shank co-founded Brick Road Coffee in Tempe.
"Brick Road Coffee was born of a desire to connect with others, create a healthy work culture of acceptance and understanding, and build up employees and the community they serve," Hagen said. 
He said the shop's name is a metaphor.
"We all travel our own paths in life, laying one brick at a time and taking each turn as it comes," Hagen said.
Ultimately, Hagen hopes to expand Brick Road Coffee while maintaining a sense of community.
"Right now, my career aspirations are to see Brick Road Coffee succeed and to create sustainable, well-paying jobs," Hagen said. "I want to be known for how I treat my employees and my community. I want to be known for my coffee, sure, but I want to be known for those two things more."
Hagen is grateful that Rio Salado put him on the path to career and education success.
"Rio offers an outstanding education that is both affordable and accessible," Hagen said. "Rio was the first school that removed all the barriers to receiving an education and gave me the confidence needed to take control of my future."