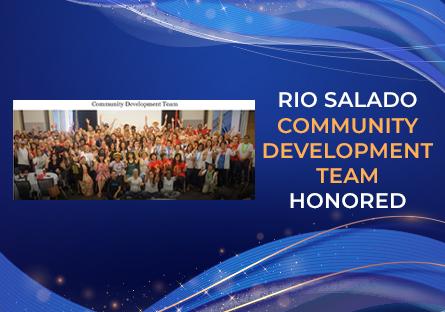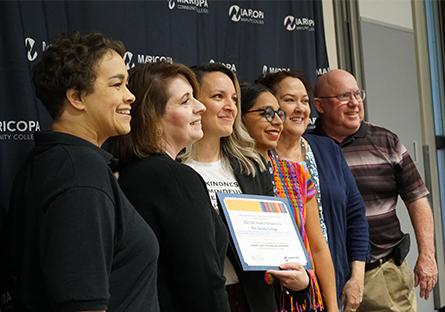 By Mira Radovich, Senior Contributing Writer
Rio Salado's Community Development division is in the news! The team received two Maricopa County Community College District (MCCCD) awards this spring recognizing their efforts in embracing diversity and supporting adult education in Arizona.
Innovation of the Year Award
Rio's Community Development team received first place in the Maricopa Community Colleges Innovation of the Year Awards for its collaborative career training model to upskill adult education students. 
The Innovation of the Year Awards, co-sponsored by the Maricopa Community Colleges and the League for Innovation in the Community College, highlight employee innovations from each of the 10 MCCCD colleges that positively impact the education of students.
By working with partner organizations (including other Maricopa Community Colleges) on career training education, Rio's upskilling model helps students accelerate college and career success.
Specifically, Rio Salado's three-pronged integrated education training (IET) program model helps underprepared learners build academic and employable skills concurrently.
The first component is adult education classes offered by Rio Salado, where basic academic skills are taught. The second component is workforce skills preparation classes that are also offered by Rio.
The third component is workforce training through Rio and partner organizations to help students earn an industry-recognized credential and prepare for gainful employment.
"Rio fills a critical gap in the local workforce ecosystem," said Elizabeth Cole, Director of Outreach and Partnerships in Community Development. "Our IET programs ensure that students can bridge their education and earn industry credentials that local employers have validated."
Through its innovative programs, Rio Salado is helping to support college enrollment and completion rates statewide while also playing a vital role in Arizona's economy.
Watch this video to learn more about Rio's Innovation of the Year program. 
Diversity Advisory Council Award
The Community Development division was also honored with an MCCCD Diversity Advisory Council (DAC) Award of Excellence.
Each year the DAC recognizes Maricopa employees from each of the ten community colleges in the district whose work demonstrates that diversity is at the heart of our educational mission.
Through its adult education classes, Rio Salado's Community Development division serves 5,000 students from multiple sociodemographic backgrounds annually.
Beginning this spring, the 200+ community development staff members will begin DEIB training activities to develop a better understanding of how personal perspectives intersect with workplace relationships, engagement and collaboration.
Training will include videos, narrative responses and self-reflection exercises.
By implementing the training, the Community Development division hopes to enhance the college culture by promoting teamwork and creating an environment where employees work productively and respectfully in a diverse workforce.
"We strongly believe that the training will not only benefit our staff, but most importantly our students as it reinforces the college's commitment to ensure diversity, equity, inclusion and belonging in our workplace," said Andrea Vazquez, Community Development Manager and DEIB team lead. 
Watch this video to learn more about Rio's DAC Award.