Tuesday, February 28, 2023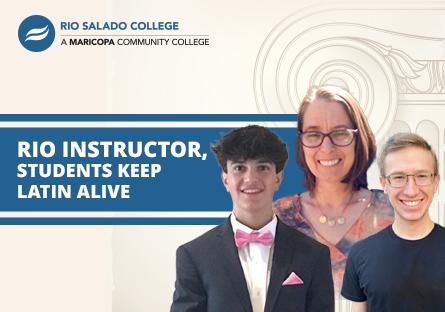 By Mira Radovich, Senior Contributing Writer
Although a dead language, Latin is alive and thriving at Rio Salado College.
"About 25 percent of the Latin students at Rio are middle and high school students," said Sarah Palumbo, adjunct Latin instructor at Rio Salado. "They want to take a Latin class but their home school does not offer it."
In Arizona, Latin is currently offered at many charter and private schools, but only at two public secondary schools.
"This is not the normal trend in the United States," Palumbo said. "Latin is much more accessible in other states."
She said the reasons include school funding and teacher certification.
"Latin used to be abundant in other secondary schools but as teachers retired, they were not replaced," Palumbo said.
Palumbo began her own Latin journey as a high school student in Connecticut. 
"I wanted to be a foreign language interpreter and travel the world," Palumbo said.
In college, she spent a few summers in Italy, and then jumped right into teaching.
Palumbo has taught at middle and high schools in the East Valley for 25 years. Since joining Rio Salado as an adjunct Latin instructor a few years ago, she has been actively promoting Latin programs and activities to her students. 
"I have been trying to get the students more involved with professional Latin organizations since they often continue their Latin, Greek and Classics studies at university," Palumbo said. 
Fall Forum at ASU
One of those organizations is the Fall Forum in Classics, an outreach program held at Arizona State University. Fall Forum students participate in lectures, games, contests and creative activities while learning about ASU's Classics education offerings.
Palumbo and ASU Latin professor Dr. Almira Poudrier started the forum 12 years ago as a way to bridge Latin studies between middle and high school students and university programs.
Last fall, 320 high school students studying Latin and Greek participated in the Fall Forum, including Rio Salado student Andrew Van Dam.
"I attended the Fall Forum with my brother who is a junior at ASU majoring in history and classics," Van Dam said. "We had a great time meeting people with similar interests and participating in the classes and activities. It was well organized and a fun learning experience."
Van Dam is also a concurrent enrollment student at Rio Salado, taking Latin 202. He is a junior at Paradise Valley Christian Preparatory high school in Phoenix.
"I am sure that my Rio Latin classes will help me in my future," Van Dam said. "I am interested in a medical career, and the knowledge of Latin words and roots will help me better understand medical terminology. It will also be a big bonus to enter college with some credits already under my belt."
Another Rio Salado Latin dual enrollment student, Bijan Razaghi, is seeing success on the national level. 
Razaghi, a junior at Scottsdale Christian Academy, recently participated in academic contests sponsored by the state and national chapters of the Junior Classical League (AZJCL/NJCL).
He earned gold medals on the National Roman Civilization and National Classical Etymology exams in the fall and will participate in the National Latin Exam in March. 
"What pushed me to initially start taking Latin was a sort of inclination in fifth grade," Razaghi said. "I had always enjoyed taking languages, like Spanish and Mandarin. When I learned that there was one language that was the base for many languages, I was super interested."
Razaghi is currently enrolled in Latin 202 online at Rio Salado College. 
After taking Latin in person for so many years, moving to the online format was difficult at first," Razaghi said. "One way that I was able to stay involved was through my instructor, Mrs. Palumbo, who offers Zoom calls, and through third-party competitions."
Razaghi, who is interested in biology and law, sees Latin as a stepping stone to future success.
"My experience with Latin will benefit my future because of how ingrained Latin is into English," Razaghi said. "The core tenants of Latin have made me a stronger communicator both verbally and in writing. On top of all of this, Latin allows me to draw strong connections to the environment around me."
Benefits of Learning Latin
Palumbo, who has served as state chair of AZJCL since 1999, is quick to point out additional benefits of learning Latin.
"Latin students have higher verbal SAT scores than all other foreign language students," Palumbo said. "It also provides a solid foundation for the acquisition of other languages.  About 80 percent of Spanish, French, Italian and Portuguese words are from Latin."
English learners are not left out.
"By studying Latin, one learns about English language structure since a person's reading, writing, and speaking of his or her own language is improved," Palumbo said.
And let's not forget that about 90 percent of scientific terminology derives from Latin and Greek. 
"There are literally millions of Latin and Greek terms and names used in botany, biology, anatomy, chemistry, psychiatry, pharmacy and other sciences," Palumbo said.
With so many advantages to learning Latin, the question really is, "Why not?"
Start your Latin journey at Rio Salado today!