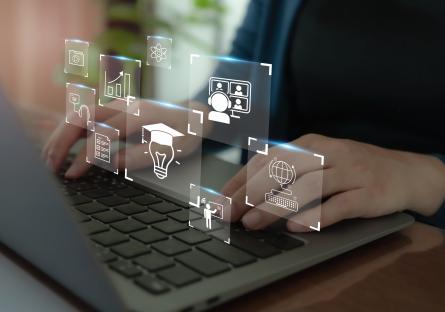 "It's who you know." "You are the company you keep." These sayings are folk wisdom for a reason: they often ring true. Part of getting ahead in the job market is knowing the right people. Maintaining a robust network of peers, former co-workers & employers, and mentors can yield rewarding dividends for your career. A big part of why it's important to keep good company is that you may need to call on them to give you a job reference. A good reference can be the deciding factor between you or someone else landing your dream job.
Read on as we explore the finer points of asking people in your network to give you a winning job reference.
Who Should You Ask For a Reference?
A good professional reference is someone who can speak clearly and concisely about your qualifications and why you're suitable for the new position you're seeking. A good reference has seen you in action and can attest to first-hand experience of your professionalism and capabilities. Most importantly: a good work reference is NOT a family member, spouse, or close personal friend. Getting a close friend or relative to be your reference could send a message to prospective employers that you don't have anyone else who can vouch for you. There is an exception to this rule: if you worked for a business run by your family, it's naturally reasonable to use a family member for your reference so long as you worked directly under them.
When narrowing down who you want to ask for a reference, consider the following types of people:
Former managers

Former and/or current co-workers

Mentors

Former teachers

Community leaders you've done volunteer work for
If you know someone who works in the same industry you're applying to, they would make for an outstanding reference because they can specifically point out what you can contribute that would make you an asset to employers in their field.
When to Ask
Job hunting can take awhile. You could be spending months trying to land a promising interview. You want to make sure you have everything that you need ready to go before you put yourself out there. Ideally, you should be getting your references in order as soon as you've finished updating your resume. Most job applications will ask for references so you'll need to have at least two people in your corner. If you're not sure what position or company you're applying to yet, don't worry: you can still get your references together. That is information you can share with them later when a hiring manager/recruiter shows some interest in you.
An important step to keep in mind: be sure to give your references a heads-up that someone may be contacting them soon once you get that interview. Since it could take awhile between asking for a reference and getting an interview, they may have forgotten you reached out to them in the first place.
Make it Easy for Them to Say Yes
Whether it's asking them to write a letter of recommendation or talk you up on the phone when the background check comes calling, being a reference IS work. You're asking someone to generously offer their time to do you a solid, and you shouldn't take that for granted. At the very least, a thank you letter and/or treating them to a nice lunch is the decent thing to do to show your appreciation. As is the case with most kinds of networking, asking yourself, "how would I like to be treated" is a great way to keep yourself honest and intentional with how you treat others. You may need to use them again one day as a reference, so the thoughtful gestures you do today will serve you well in the future.
If someone agrees to be your reference, the more information you give them the easier it'll be for them to advocate for you. Tell them about the company you're applying to, the kind of position you're seeking, and emphasize what qualities or skills you'd like them to talk about in their recommendation. This kind of specificity is important because if you don't offer them any guidance they may err on the side of being vague and generic in their praise. By giving them specifics, it encourages them to drill down and get granular with their references and that specificity will make you stand out to employers.
You can even offer to share a copy of your resume, cover letter, and the job description for the position you're applying for to make it easier for them to understand what would be most helpful to you.
Always Ask, Never Assume
Never, ever list someone as a reference without asking for their permission. That holds true even if you've used them as a reference in the past. You don't want them getting called out of the blue and get caught flatfooted. Not only is it rude to them, it's counterproductive for you: a hiring manager can tell when a reference isn't prepared. It will speak very poorly of you and most likely ruin your chances if they call a reference and can hear that they don't know why they're being contacted.
"Since many people do not answer calls from people they don't know, your reference might not even answer the call unless you notify them in advance," said Gina Pinch, Rio Salado College's Faculty Chair of Business, Management, and Public Administration.
A reference may even tell you to use them whenever you'd like. It's still best practice to contact them each time you use them, especially if a few years have passed. 
Refresh Your References
You may have great job references that you can re-use in the future, but there's a chance you may need to get new references at some point. This is especially true if you pivot into a new industry and want someone who can vouch for you in a way that will be more convincing to people in that field. The best work references can speak to your recent job performance and testify to who you are now. Someone who can talk up how great you were ten years ago may not be your best foot forward.
One Good Turn Deserves Another
As the saying goes: you get what you give. Be prepared to be a reference yourself at some point, especially if one of the people who you tap to be a reference ends up going on a job search themselves. One of the benefits of giving job references yourself is that it will give you greater insight into what makes a GOOD job reference.
When giving a job reference, stick to factual statements as much as possible. Be specific in your praise. You want to be positive but genuine; hyperbolic, over-the-top praise isn't helpful and may in fact set off alarm bells to hiring managers. Prepare yourself mentally for some of the most common questions references get:
"How do you know the candidate?"

"What are their core values?"

"Do they have strong interpersonal skills?"

"Do they work well with others?"

"How have you seen them grow?"

"How have they helped you at work?"

"Are they a strong problem solver?"

"What are some areas where the candidate can improve?"
Less is More
Don't put too many references on your application. Most employers will ask for two to three references on their applications. Even if you have five solid gold references, you don't want to include all of them. Only submit a number of references equal to what the employer is asking. If you have a pool of references to choose from, select the two to three that you feel are most relevant to this particular employer and/or position. Variety is important, too: try to pick two references who will highlight different skill sets and aspects of your personality rather than picking references who are just going to say the same thing about you.
What if I Don't Have a Relevant Work History?
Getting references together can be a challenge if you don't have much prior work experience or if the work you've done isn't relevant to the field you're trying to enter. Don't despair! You can get creative with your references. Don't forget that college professors, volunteer organizers, faith leaders, and networking contacts are all valid sources for references. If you're inexperienced, ask your references to emphasize soft skills like:
Communication

Collaboration

Critical thinking

Empathy

Time management

Customer service

Digital & data literacy

Leadership
Soft skills are often underemphasized in job interviews but they are very important. Employers can train you on the job for certain skills but they can't make you an easy person to work with. A candidate with a proven history of working well with others who has strong communication skills may be a more appealing prospect to employers than someone with a great work history who's as abrasive as sandpaper. 
Article by Austin Brietta
Career Corner
Looking for more of our career stories? Check out these blogs: