Friday, September 29, 2023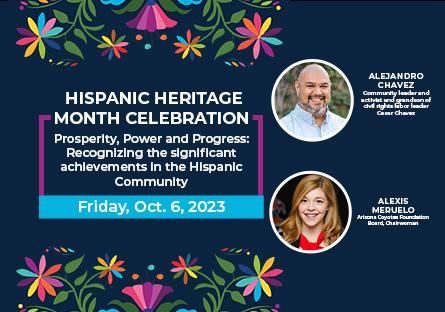 Hispanic Heritage Month is Sept. 15-Oct. 15. At Rio Salado, we're proud of our Hispanic community and look forward to a month of celebrating their rich culture & history. Rio Salado will host a special event to mark the event on Oct. 6.
Join Rio Salado in Celebration of Hispanic Heritage Month for a community breakfast and livestream event on Oct. 6. This year's theme is Prosperity, Power, & Progress: Recognizing the significant achievements in the Hispanic Community.
The Rio Salado event includes a panel discussion led by Rio Salado students with special guests: Alexis Meruelo, Chairwoman of the Arizona Coyotes Foundation Board of Directors and Alejandro Chavez, Community leader and activist and grandson of civil rights labor leader Cesar Chavez.
Friday, Oct. 6: Livestream
8:30-9:15 a.m. Event program: Panel discussion, moderated by Rio Salado students
We look forward to seeing you there.
LEARN MORE
The library staff have prepared an informative guide for Hispanic Heritage Month. Please take a moment to learn more about the contributions of Latinx and Hispanic communities.
Check out some of the featured Hispanic Heritage Month selections on display at the library in the Rio blog.