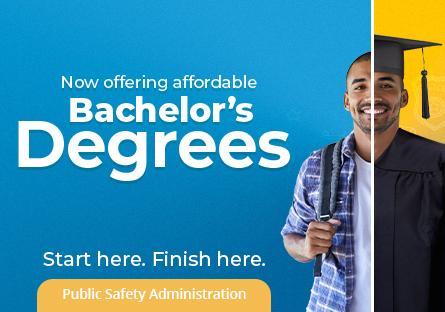 New Bachelor's Degree Prepares Next Generation of Public Safety Pros
By Mira Radovich, Senior Contributing Writer
People interested in a public safety career don't have to look farther than Rio Salado College. Students can now enroll in the new Public Safety Administration bachelor's degree program that begins this fall.
Thanks to a 2021 law signed by former Gov. Doug Ducey, community colleges in Arizona can now offer select bachelor's degrees, allowing students to save thousands on college tuition.
Angela Kwan, Rio Salado faculty chair for Administration of Justice Studies and Paralegal, said the degree is a natural next step for the college.
"Rio Salado has a 28+ year partnership offering college credits to Valley law enforcement agencies and police academies for their basic training programs," Kwan said. "It makes sense that these students can continue their education with us and earn a bachelor's degree to help them prepare for leadership roles in their organization."
The public safety career field is designed for people who are dedicated to protecting communities and ensuring the well-being and safety of individuals. It is a job that can be challenging, meaningful and exciting.
Texas native Gregory Wright spent 23 years working in the grocery business before turning to a law enforcement career.
"My brother and I always talked about my dream of being a police officer," Wright said. "After he died, I just decided I'm going to go for it. And the next day I went and talked to the guys at the police academy."
His academy's partnership with Rio Salado College led Wright to a college degree.
"As my career began to move forward, I knew that I needed more than just a high school diploma to advance in my profession," Wright said.
In 2021, Wright proudly completed his associate degree in law enforcement training at Rio Salado, and now serves as a sergeant with the Dallas College Police Department.
Law enforcement work is only one facet of the public safety field.
"Career options for public safety professionals include fire services, emergency medical services, homeland security and corrections and detention, to name a few," Kwan said. "Public safety administration is a transferable skill that can lead to opportunities in government and non-profit organizations."
What Can Students Expect?
Courses in the Public Safety degree program analyze the legal, political, and social factors related to public safety, and provide an overview of topics such as organizational theory, public policy, resource management, leadership, and ethics.
"The major advantages of choosing Rio Salado are the cost and flexibility," Kwan said. "Students can expect to receive a quality education at a much lower cost than state or private universities but not at the sacrifice of quality and rigor."
She added that the public safety program courses were developed by seasoned practitioners.
"During our design and development of the Public Safety Administration curriculum, we collaborated with public safety stakeholders who helped us develop the learning outcomes," Kwan said.
Students will also enjoy Rio Salado's flexible start date model with up to 48 start dates per year, and online classes that can be accelerated to 8-week sections. 
"Our goal is to prepare students in public safety career fields to become effective leaders and stewards of their community," Kwan said.
Thinking about a Public Safety Career?
In-County tuition for lower-division courses is $97 per credit hour (effective Fall term 2023) and $145.50 for upper-division courses.

For more information complete a

request for information form

and an outreach specialist will contact you.

Visit our Public Safety Administration

webpage

for detailed program information including admissions criteria.