Tuesday, January 17, 2023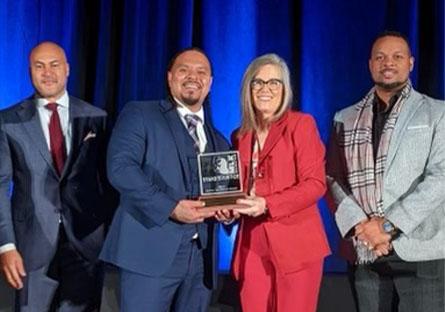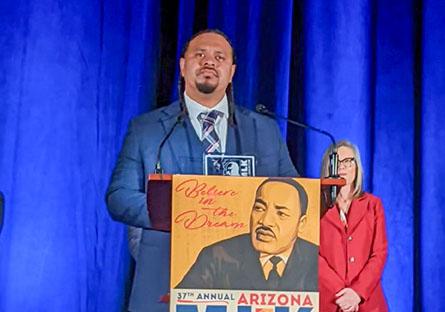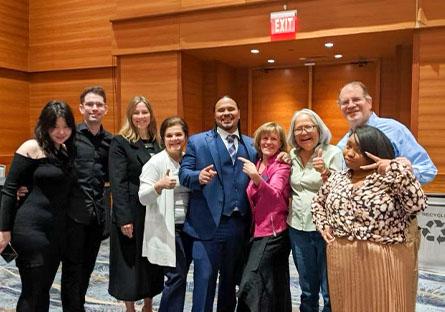 By Mira Radovich, Senior Contributing Writer
Rio Salado College alum (and 2022 commencement student speaker) Cordero Holmes received a "Living the Dream" award from the City of Phoenix at its 37th annual Arizona MLK Awards breakfast at the Phoenix Convention Center on Jan. 13, 2023.
The award honors the accomplishments of Phoenix area residents, including youth, who contribute significantly to creating a compassionate and socially just community through their dedication to human and civil rights.
Holmes transformed his life through education after bad decisions in his youth led to incarceration. While incarcerated, he began taking distance learning classes through Rio Salado College.
Holmes not only succeeded in his classes, he thrived. Upon release, he enrolled in the college's online classes and earned two associate degrees, all while maintaining a 3.9 GPA, parenting four children and working 50+ hours per week.
At Rio Salado. Holmes was a member of the Phi Theta Kappa (PTK) honor society and a student senator for the Maricopa Student Senate.
In 2022, he was named to the All-Arizona Academic Team, and received a Coca-Cola Academic Team Scholarship and a Jack Kent Cooke Foundation undergraduate transfer scholarship.
Today, Holmes is a junior at Arizona State University.
Through all of his success, Holmes remains committed to education, volunteering and giving back to his community.
"One thing I will always say is service to community is service to yourself," Holmes said. "I understand how important it is to serve, because that's how I am where I am today."
Holmes' career goal is to start a nonprofit organization that builds transitional campuses for women and men re-entering society from prison.
Rio Salado College to Host 5th annual MLK Celebration Jan. 27, 12-1:30 p.m.
Please join us to commemorate the transformational work of Rev. Dr. Martin Luther King, Jr., during our 5th annual collegewide MLK Event.
It is an honor to continue hosting this special program that promotes unity, hope, healing and equity. And, this year we welcome City of Tempe Councilmember Berdetta Hodge as our keynote speaker, to inspire us with her journey as we celebrate this year's theme: Honoring The Legacy: Love in Action.
The live event will be streamed on YouTube for virtual viewers. This event is presented by Rio Salado's Diversity, Equity, Inclusion, and Belonging Committee to help foster a culture that values and honors everyone's unique qualities with respect and dignity.
Rio Salado College is committed to providing universal access to all of our events. Please contact Christina Bolyard, christina.boylard@riosalado.edu, 480-517-8562 to request disability accommodations. Advance notice is necessary to arrange for some accessibility needs.
RELATED LINKS
Meet 2022 Commencement Speaker Cordero Holmes
Rio Grad Receives Prestigious Scholarships